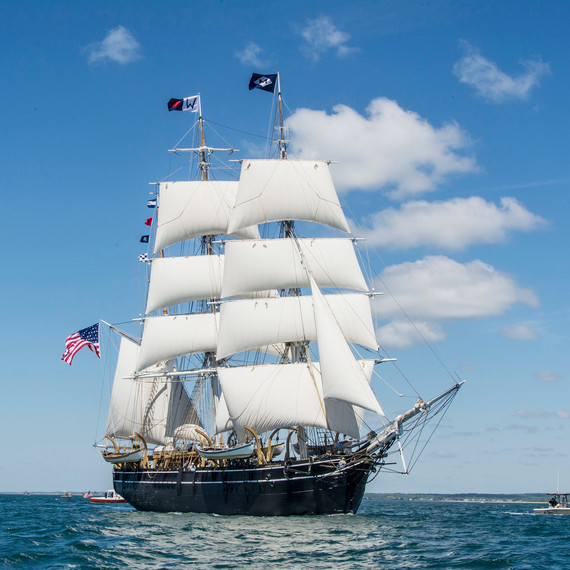 Today, the Charles W. Morgan -- the last American wooden whaling ship, launched in 1841 -- sails from New London through to Provincetown and back to Mystic where it will remain on exhibition. This historic whaling vessel is now ambassador to the world's whaling heritage.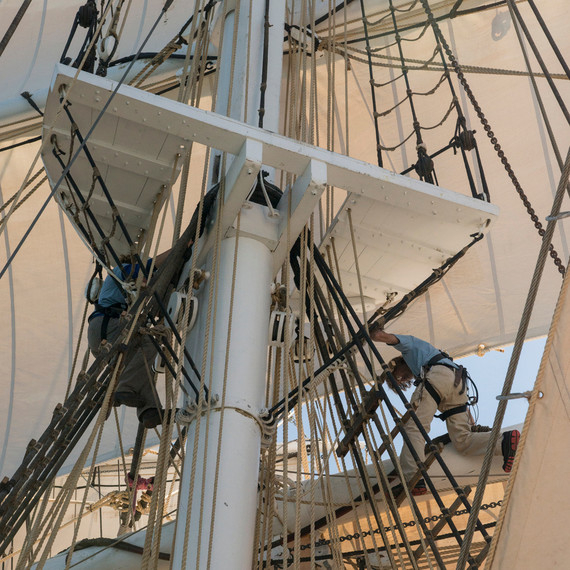 For my entire life, the Morgan has sat on the shores of the Mystic River, being kept intact by the Mystic Seaport. The Mystic Seaport was right across from my grandfather's house, and when the wind was right, we could hear the calls from the masts and yardarms as the sails were furled during weekend demonstrations.
My grandfather sailed on the other ship in the museum, the Joseph Conrad, so we always felt a deep connection to them both. School field trips were a lot of fun because, even at 10 years old, I knew more than most of the teachers about the ships and how they work. My great-grandfather was a 100-ton captain on the Hudson River, my grandfather was a boatswain working from Brazil to New York City, and my father was a naval electronics engineer testing modern equipment in most of the world's oceans. My dad says that "the salt water is in our blood."
It was the restoration of the Morgan, beginning in 2008, that inspired my wife and I to start taking our careers as knot-tiers seriously. Along with our friends in the sailing and cruising community, we raised a small portion of the $7 million invested in keeping this piece of living history afloat. The connection to the seafaring trades is part of the lifeblood of this region. Even some of our local sports teams are named after the whaling traditions: Waterford High Lancers, New London High Whalers, and of course, the former Hartford Whalers hockey team.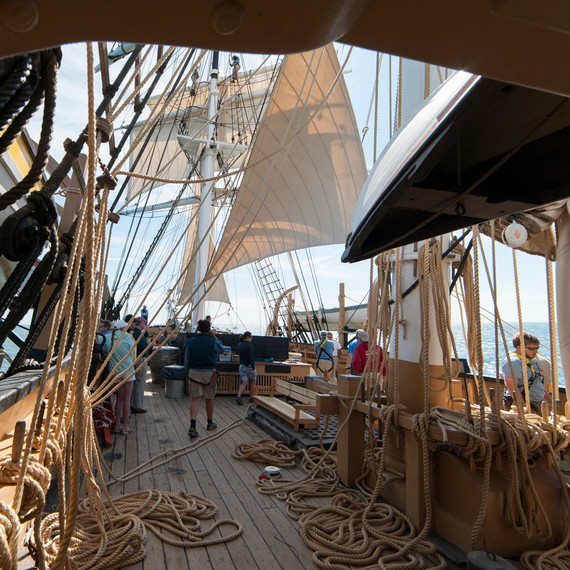 The last time the CW Morgan set her sails was in 1941 -- that is, until now. To say this summer will be a once-in-a-lifetime experience is an understatement. More than 70 years separates the arrival of the Morgan to the Mystic Seaport and her current sea trials. My wife and I had the opportunity to sail aboard the S/V Argia as a chase vessel while she went through the Bascule Bridge down past Noank and into Fishers Island Sound. At that point, the tugs that were assisting the Morgan toward her ballast in New London sped up and outran our "little" 81-foot schooner that was running under sail. Watching the Morgan sail off through the light fog of the morning was breathtaking.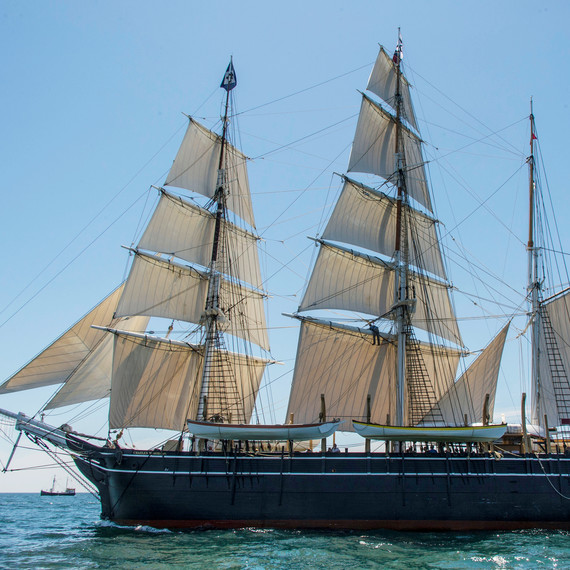 Photos courtesy of Mystic Seaport