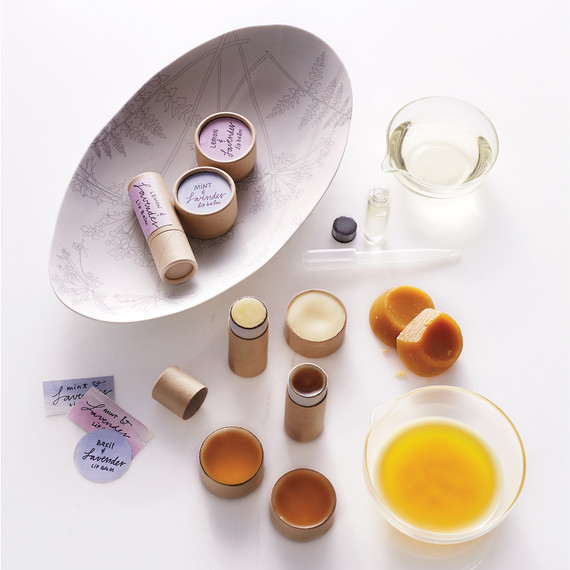 Follow these instructions to make four lip balms (two cardboard tubes and two cardboard pots). Lavender essential oil's scent can be very strong; you can soften it by mixing in basil, mint, or lemon essential oil (try a ratio of 1 to 2).
Materials
Natural beeswax (Pictured: Natural beeswax, $8 per pound, brambleberry.com)
Heatproof measuring cup
Safflower oil
Lavender essential oil
Craft sticks
Cardboard tubes and pots (Pictured: Paperboard containers, from $27 for 12, sks-bottle.com)
Steps
1. Place 2 tablespoons grated beeswax (or pellets) in a heatproof spouted measuring cup. Heat in microwave on medium for 30 seconds; stir with a craft stick. Repeat until wax is fully melted.
2. Stir in 1/4 cup safflower oil and heat for 30 seconds in microwave.
3. Add a total of 10 to 15 drops essential oil (combining scents as desired); stir.
4. Pour mixture into cardboard tubes and pots, stopping just shy of tops. Let set several hours.
Feeling inspired? Watch how to get a soft, kissable pout​ at home: