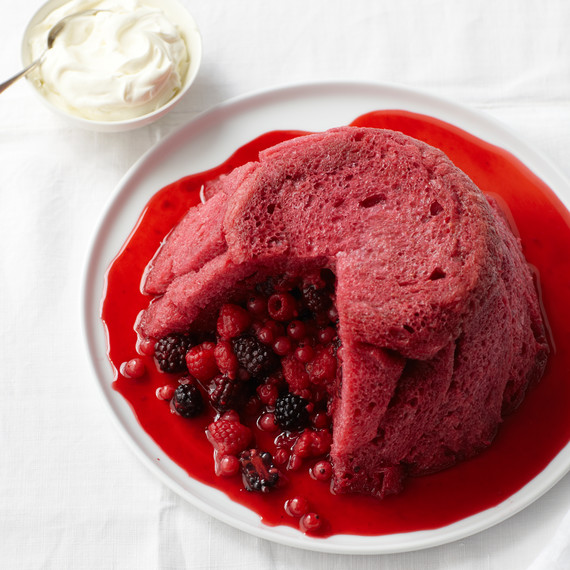 When Americans say "pudding," they're probably referring to a specific type of creamy dessert, like chocolate pudding or even banana pudding. For us Brits, it's a bit different: A pudding is a dessert, pretty much any dessert, but it's also a steamed pudding like this and this, and of course the famous Christmas plum pudding.
So what's a summer pudding? It's the quintessential dessert of the warmer (and in Britain, often wetter) months. Unlike those steamed puddings I just mentioned, it's a cold dessert -– which might surprise those of you who think Blighty too chilly for anything cooler than lukewarm beer. And it's made in midsummer when soft fruits, as we so quaintly call berries and currants (for obvious reasons), are at their peak.
If you don't like making pastry or don't care to turn on the oven for cake when the thermometer goes past 85 degrees F, this is the dessert for you. It's no-bake; the only cooking required is a little stove-top time for the fruit. In place of pastry or cake, there's white bread, which is used to line a mold, the famous English pudding basin. The fruits are cooked gently on the stove top to release their juices, and that crimson liquid colors the bread as the pudding chills overnight, allowing the flavors to meld.
The result is spectacular -- just about the best way to showcase raspberries, blackberries, and currants. It's a perfect, make-ahead dinner-party dessert -- and your guests will never guess just how easy it was to make.
See Step-by-Step How to Make Summer Pudding