Studies have shown that drinking coffee may help you live longer, reduce the risk of cancer, improve long-term memory, and make you happier (if you're a woman, that is). On the flip side, there's a study that shows that coffee consumption does not make you more alert after all.
While we eagerly await a study that shows coffee drinkers are, in fact, smarter, faster, and more creative than their under-caffeinated counterparts, we decided to do some unofficial research by asking a few of our favorite coffee drinkers to describe how they enjoy their morning brew.

You may know Grace Hightower as an actress or activist -- or maybe as wife of Robert De Niro. But she's also a coffee entrepreneur and founder of Coffee of Grace. Here, she reveals her morning coffee ritual.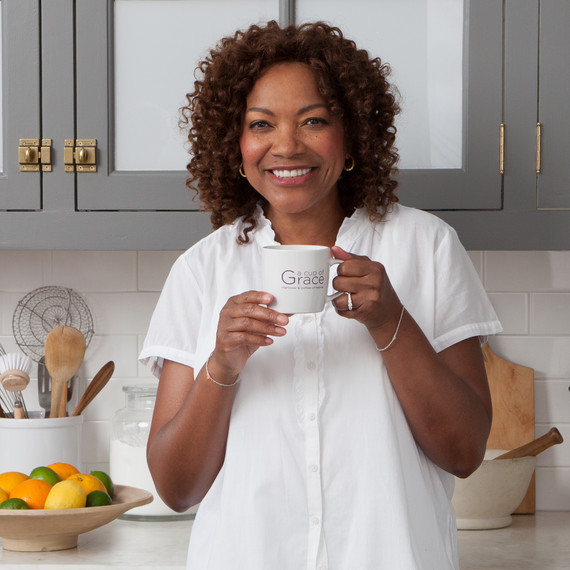 Do you drink coffee every day?
I do, I do; but I only drink my coffee. If I go anywhere and I don't have my coffee, I don't drink coffee. When I travel, I carry it with me -- and I ask hotels to grind it and brew it for me if I can't have it in my room myself. I'm dedicated that way.
Do you make your coffee and drink it the instant you get up, or do you savor it later in the morning?
I'll give you my routine, my morning ritual: I get up, I do a bit of stretching, and then after showering and everything, I have a half cup of warm lemon water. I've been doing that forever. I love it. It just brightens everything for me. And then I proceed to make my coffee. I would say I am up about 30 minutes when I start. In the morning I use the Medium-Dark Roast from Coffees of Grace. I grind my beans in a Rancilio grinder and then I brew in a Moccamaster.
Why do you use that brewing method?
When I first started getting into the coffee business, I met with some consultants -- coffee experts -- and we were talking, and I said, "If you were going to make an incredible cup of coffee, what machine would you use?" and they all had their opinions. I tried the Moccamaster, and it really is good. I am certain there are tons of other great methods out there. For me it was also about being able to operate the machine: I didn't want anything so complicated I couldn't make it myself.
Do you take milk?
Yes, I have warm almond milk in my coffee. I warm it on the stove top. And I have a little bit of honey that I put in it, then I sip.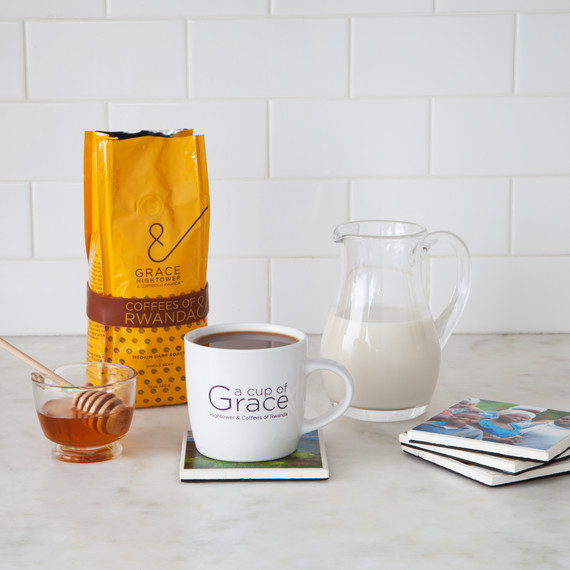 Is morning a special time of day for you?
Usually I'm alone because I get up early. I want to get up before the kids [Editor's Note: Grace is the mom of a toddler and a teen], and be able to have my coffee and a little bit of time just sitting and thinking about the day. And because I won't get that time throughout the day -- it's just not going to happen -- that's the way I start out.

How did you become interested in coffee -- beyond just drinking it?
I actually started the company because I heard the president of Rwanda, Paul Kagame, speak about trade not aid, but I didn't know I was going to start a coffee company. After researching, it became clear Rwandan coffee was the best resource. And after visiting Rwanda, I just fell in love with the people. I love that they are doers and are so strong. Before I started Coffee of Grace, I assumed all coffee came from Latin America or Indonesia. I wasn't familiar with African coffee. But I've been told that coffee first came from Angola. I haven't tasted Angolan coffee, but I do know that Rwandan coffee is very different from other coffee. The Rwandan coffees we sell are high quality. It's important to me that the coffee is sourced from small family farms. I think that has an impact on how the coffee tastes because it's all done by hand; the growing and picking and sorting is done manually. That's a good thing because when you have all these hands, it's a labor of love and you're getting that in a cup of coffee. I think that sets it apart.