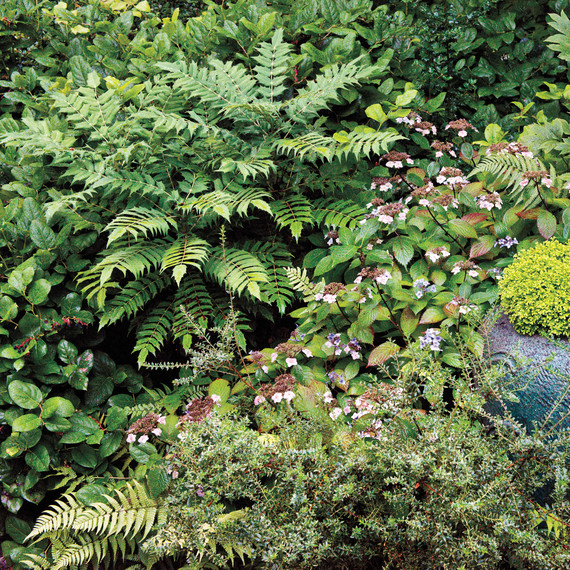 Like a mother with many children, Nancy Heckler loves each of her hydrangeas equally -- but for different reasons. Big-leaf Hydrangea macrophylla 'Blushing Bride' tumbles along the deck behind her cottage and "produces huge white blooms that turn green, then pink-tipped, then pink over four months!" she says proudly. H. aspera, though tall and leggy, has "great, fuzzy leaves" that mix beautifully with purple smoke bush and feathery ferns in a woodland border. The earlier-flowering H. serrata, with its dainty double lacecaps, stays smaller, so the avid plant collector can fit more of them into her one-third-acre garden northwest of Seattle.
Since 2006, when Heckler moved here from a larger landscape nearby, the hydrangea count has risen exponentially, from a single 'Blue Wave' to more than 50 varieties. While she arrived an enthusiast, having grown them before, she is now completely enamored of them: "I value plants that like being in my garden." From spring to late fall in her rainy location (Zone 8 on the plant-hardiness map), several are flowering at once. Most are lacecap types -- with beadlike blooms edged in colorful sepals -- chosen because they thrive in the bright shade of her firs and cedars. Those that sprawl and want sun she tucks into patio containers, repotting them every few years as roots grow. Many open in shades of pink or blue, though she does nothing to control this, eschewing the hydrangea trick of raising (with lime) or lowering (with sulfur) soil pH to turn flowers pink or blue, respectively. "I don't have patience to fuss," she says.
What she does give her hydrangeas is weekly watering in spring and fall, and winter mulching with three inches of organic compost, aged manure, and wood chips. She doesn't fertilize, but after the last hard spring frost, she snips spent flowers and prunes all the plants in one go. With big-leaf (macrophylla) types, she takes a heavy hand, sometimes sacrificing flowers that have begun to form as she cuts back and shapes any plants that have grown too large. "There are always more," she says. She goes lighter on less aggressive oak-leafs (H. quercifolia) and serratas. Asperas, which can have several 12-foot flowering stems, she either takes down gradually, one stem a year, or whacks entirely by two-thirds, forgoing new flowers for a couple of seasons.
In and out of bloom, hydrangeas shine among her other forest favorites: "Classic early trillium, cyclamen, and dogtooth violet set them off before they quite get going," she says, describing how the hydrangeas' tall stems and new leaves rise above the low-growing woodland flowers in spring. Later, finer-cut, contrasting tree peonies, black mondo grass, or variegated corokias showcase the hydrangeas' various greens and weave a textured backdrop for their flower heads.
Hydrangeas are infinitely variable -- within the same growing zone, neighboring landscapes, similar light conditions, and even her own garden, only a few feet apart. "You can't predict; you can't generalize," Heckler says, "which, for me, keeps them endlessly interesting."
Summer Hydrangeas