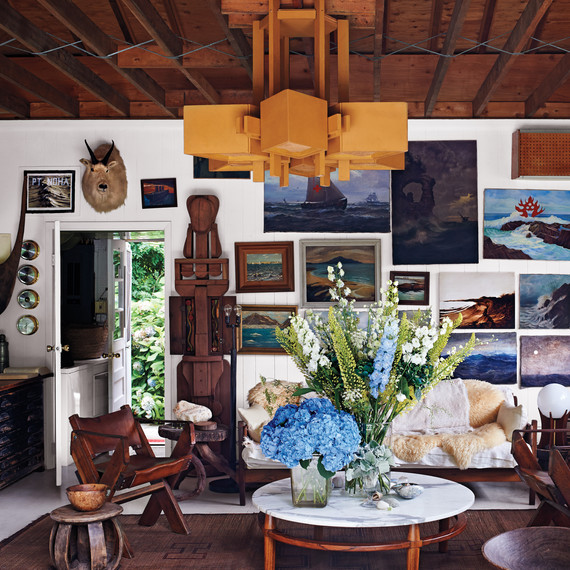 For Stephen Alesch and Robin Standefer, founders of the design firm Roman and Williams, the ideal summer weekend is a combination of opposites: rigorous planning and breezy improvisation. First, the planning. It starts on Wednesday, when, working in her Lower Manhattan office, Standefer starts drafting the shopping list and placing special orders -- say, smoked fish from Russ & Daughters and a five-pound pork shoulder from their favorite butcher.
The next day, between back-to-back meetings with clients and the firm's design staff, Standefer goes over the list, factors in any substitutions, and adds staples like milk, bread, and eggs. By Friday afternoon the last deliveries are rolling into the office, and by seven that evening, their giant marine cooler -- dark-green metal, heavy as a tank -- is packed and loaded into their car for the three-hour drive to Montauk, New York. "It's an intense system, almost like we're running our own little restaurant," says Standefer. Even if it's 11 at night when they arrive at the house, if there's a roast in the cooler, Alesch preps it and places it in the oven overnight so it can be ready for lunch the next day.
That's when the spontaneous part kicks in. Alesch goes surfing, Standefer tends the flower and vegetable gardens, and they often have friends over for a family-style gathering -- or two. While the contents of their cooler provide the framework for their meals, the rest is left to improvisation. "We'll go into the garden with a bowl and build dishes around whatever's ready," says Standefer. They grow an astonishing variety of produce -- including heirloom tomatoes, kale, artichokes, horseradish, rhubarb, leeks, pea greens, celery, brussels sprouts, and chicory -- all of which is ready for harvest at different times, and not always so predictably. Surfer friends whom Alesch bumps into on the beach are other wild cards: "Stephen will text me to say he's bringing seven people by for lunch," says Standefer. But she doesn't stress. "We just add some more couscous to the salad."
The couple's approach to weekend entertaining closely reflects their design firm's luxurious yet rough-around-the-edges aesthetic. As even a casual observer of the interiors scene can tell you, in recent years there's been a shift from slick, minimal spaces toward those that feel textured, lived-in, and personal -- and the work of Roman and Williams is at least partly responsible. Though the designers' specific references and inspirations vary by project -- their best-known work is with hotels such as Ace, Viceroy, the Standard, and the High Line -- the duo have come to be known for their fondness for vintage tile and hardware, burnished brass, reclaimed wood, industrial artifacts, flea-market finds, found objects both natural and man-made, and murky, moody palettes ("colors between colors," as they put it). This past spring, they were awarded the National Design Award by the Smithsonian Cooper-Hewitt, National Design Museum. "We never aim for perfection," says Alesch, pointing out the exposed wiring in the ceilings of the beach house. "And we love the overlooked."
Alesch is a self-taught and passionate home cook, and one of his favorite things to make for friends is a whole striped bass stuffed with fennel fronds, sage, and celery and mint leaves over their backyard fire pit. "It's messy and a little bit challenging to serve," he admits, "but we just put it on a big platter and decorate the heck out of it with fresh herbs." If the garden is cooperating, Standefer will make a gorgeous sliced-tomato salad with flowering fennel, a platter of just-picked crudites, and a pitcher of elderberry-and-hibiscus iced tea. ("Stephen's the hot chef, and I'm the cold chef," she explains of their division of labor.) And if the fish falls apart, the tomatoes run short, or the elderberry doesn't bloom, well, the couple doesn't worry too much about it. "Years ago, before we had this house, we got really into the writings of Gertrude Jekyll," says Standefer, referring to the influential British horticulturist and author. "She believed in making a garden elegant but also spontaneous and a little bit chaotic." Much like the ideal weekend.
And the Living Is Easy: Inside a Laid-Back Montauk Weekend Retreat