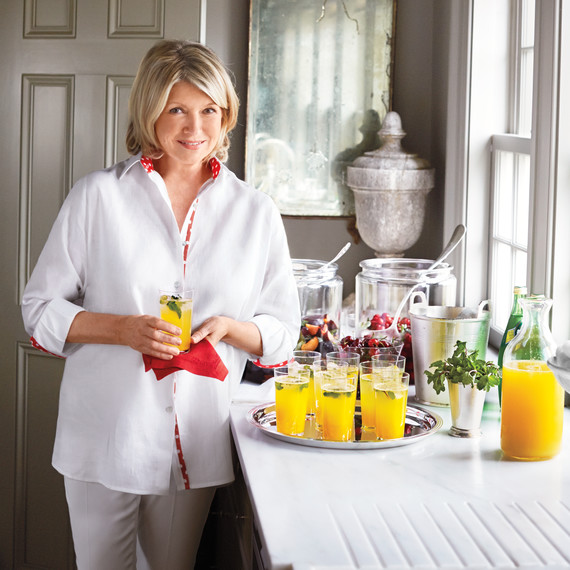 Would you like to know a secret for entertaining? Here it is: a really good cocktail, carefully made with fresh ingredients and the highest-quality alcohol, served in a beautiful glass. This can set the mood for any party and get an evening off on the right foot.
I learned this years ago when I catered many events a week. I always encouraged the host or hostess to allow us to concoct fresh-fruit drinks in large quantities to serve at the beginning of the party. A mojito, fragrant with fresh herbs; a vibrant daiquiri; a caipirinha with a thick slice of lime in a heavy rocks glass; a fruity margarita in an oversize saucer goblet with salt and sugar on the rim -- these drinks are pretty, they are appealing, they are delicious, and they are definitely icebreakers. A drink sipped during cocktail hour relaxes the crowd and the host and hostess, and almost guarantees a successful evening.
Bartenders are now more formally known as "mixologists," and many serve very creative concoctions. They have their rules and recipes, and I have learned a lot standing at a good bar watching the pouring, the measuring, the stirring, the whirring and shaking. My personal rules are fairly simple: Start from scratch with ripe, unblemished fruits (what's in season often determines the recipe); juicy citrus, always freshly squeezed; and excellent liquors and liqueurs. A great trick is to freeze some of the fruit juice to use as "ice" cubes -- they won't dilute the drink as they melt.
I've served all the cocktails pictured here to guests, all of whom really and truly imbibed them with pleasure.
Blackberry-Plum Mojitos
Sour-Cherry Mojitos
Pineapple-Mint Daiquiris
Ginger Caipirinhas
Frozen Pomegranate Margaritas
Six More Frosty Drinks
Searching for a respite from sultry summer days? Try one of these icy and utterly refreshing beverages. Some, including iced tea laced with hibiscus and ginger, or a mint julep blended with blackberries, are fresh takes on longtime favorites. Others, such as granita spritzer made with honeydew melon and seltzer, or an apricot-peach libation spiked with sweet wine, are creations of our own. Whether you fancy something with alcohol or without, you'll find great-tasting choices here. Best of all, each drink is guaranteed to help you maintain your cool, even as the mercury rises. We'll toast to that.

Hibiscus and Ginger Iced Tea
Vanilla, Plum, and Buttermilk Smoothie
Blackberry-Mint Julep
Honeydew Granita Spritzer
Sauternes and Frozen Stone Fruit
Frozen Frangelico Coffee with Cream