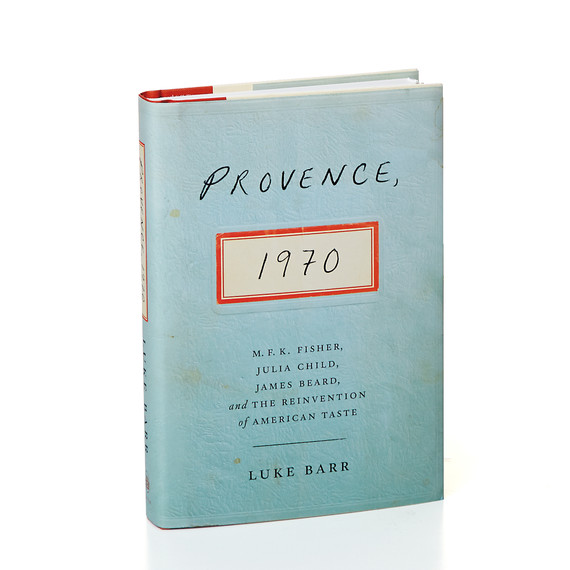 It's almost summer, book-clubbers! In honor of our June Food Issue, we dug high and low for a book that tied in to the theme, and we think we've hit the jackpot with Provence, 1970 by Luke Barr. "Provence, 1970" is based on true events that occurred over the course of one winter in which six icons of the food world (Julia Child and James Beard included) ended up together in the South of France. We haven't read a nonfiction work since our October select, and we can't wait to learn more about such a pivotal time in the history of American food. 
From the Publisher:
"Provence, 1970" is about a singular historic moment. In the winter of that year, more or less coincidentally, the iconic culinary figures James Beard, M.F.K. Fisher, Julia Child, Richard Olney, Simone Beck, and Judith Jones found themselves together in the South of France. They cooked and ate, talked and argued, about the future of food in America, the meaning of taste, and the limits of snobbery. Without quite realizing it, they were shaping today's tastes and culture, the way we eat now. The conversations among this group were chronicled by M.F.K. Fisher in journals and letters -- some of which were later discovered by Luke Barr, her great-nephew. In "Provence, 1970," he captures this seminal season, set against a stunning backdrop in cinematic scope -- complete with gossip, drama, and contemporary relevance.
With this book in hand and our June Food Issue on our coffee table, we're looking forward to a tasty summer! Looking for food inspiration -- and a new read? We're giving away a copy of "Provence, 1970" to one lucky reader! Comment below between now and June 20th for a chance to win. Please see official rules here. 
Check back in at the end of the month to find out who won and what we're cooking up next!