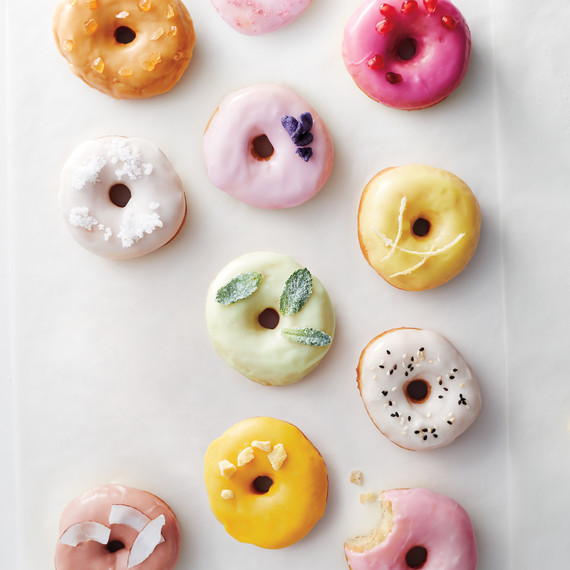 Whether you opt for glazed, creme-filled, or cruller, consider bypassing store-bought treats and celebrating National Doughnut Day (it's the first Friday in June!) by going the homemade route. Intimidated? You shouldn't be, says our baking expert, Jennifer Aaronson. Here, she reveals her secrets to deep-fried success.
"Doughnuts are not hard to make," Jennifer says. "I think it's the deep-frying that turns people off. If you commit to the deep-fry, then you'll find it quite easy, very satisfying, and utterly delicious to have freshly made doughnuts at home." Making doughnuts does require some planning -- you need to allow time for the dough to rise. To encourage you to get frying, here are some of Jennifer's favorite recipes.
These yeasted Doughnut Twists are deliciously light and airy on their own, and when paired with the chocolate brandy sauce, well, one is not enough. Cake doughnuts are faster to make than yeasted; there's no waiting for the yeast dough to rise. They are sugary, dense, and crumbly -- well suited for dunking (cue the iced coffee?).
Why are doughnuts so often ring-shaped? The hole in the middle allows the dough to cook faster and more evenly than any doughnut without. These mini doughnuts are so dainty, they fry very fast (though the dough needs the usual two risings).
A Party with Doughnuts?!
To truly celebrate everyone's favorite sweet, why not host a doughnut making party? Make the dough before guests arrive. Then have guests fill their doughnuts. (Even if you choose to make ring doughnuts, guests can pipe a filling into the hole.) Set out a variety of fillings and piping bags; fillings can be as simple as using different jams, or you can make custards and chocolate pudding. And offer a range of glazes, from chocolate (semisweet chips melted with heavy cream) to lemon and other fruit flavors, plus set out bowls of nuts, toasted coconut, and sprinkles for toppings. Be sure to have lots of coffee for all those who like to dunk.
Truly, there is nothing like a homemade doughnut.
Inspired? Watch how to make the chocolate doughnut holes filled with caramel: