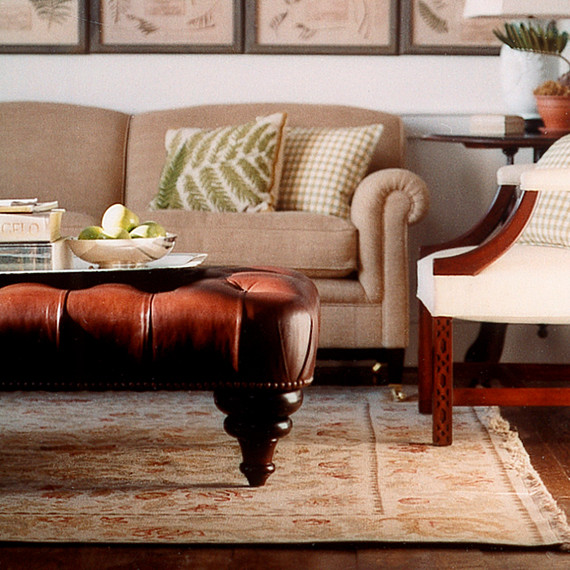 Can we please stop using the term "man cave?" The concept -- a room or apartment decked out with a hypermasculine heavy hand -- not only is crass, but ultimately misses the point. The "man cave" isn't about a particular aesthetic so much as how a room is meant to function. Men want a stocked refrigerator, a killer sound system, and a comfortable place to put their feet up -- three things that, to me, hardly seem gendered.
So if "man cave" is just a less-desirable name for a den, what are its essential components? Let's examine it from the ground up.
Plush rugs. Shag rugs are stylish, comfortable, and surprisingly low-maintenance -- even the plushest carpets need formal cleaning only every five years. The rest of the time, simply flip them over and vacuum the back to shake out any dirt, and spot-treat stains with equal parts water and white vinegar.
Style, comfort, and convenience: Everybody wins.
Unfussy furniture. Think wide, deep sofas and easy-to-clean upholstery. With all the innovations in indoor-outdoor fabric, it's easy to find something that would impress in a den or on a deck. Get a great sofa and maybe a chair with an ottoman for extra seating (and, of course, extra comfort).
Making comfort-first furniture choices often means eating into space for other items, and that's fine. Who really needs multiple side tables in their den? Snacks can sit in a tray on the ottoman. And as for the lamp ...
Soft lighting. There's no reason for the "cave" epithet to be taken literally; that said, harsh overhead lighting is just not comfortable. Without a side table, look to floor lamps or wall sconces for light. If you really want to go for the gold, install a dimmer switch. Windows are a huge bonus, too.
Easy-living accessories. Just because you bought a sofa doesn't mean you're done. Pillows and blankets can take a room from "oh, that's nice" to "I'm never leaving, and you can't make me!" A small electric fan will keep the air fresh and flowing, and solar shades harness TV glare and block out the sun for midday naps.
Instead of getting caught up in "man cave" cliches, ask yourself: Is this room set up to function for comfort? When I'm in my low-lit, well-ventilated perch on the sofa with my favorite pillow and blanket ... I'm never leaving, and you can't make me.