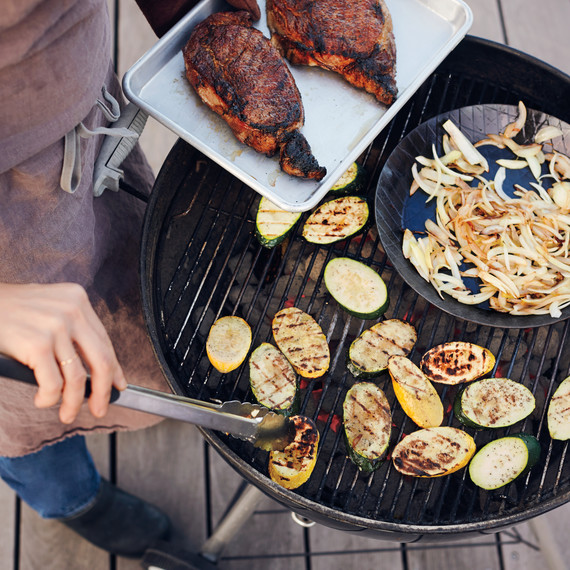 Since lighter fluid gives food a chemical aftertaste (as do instant-light briquettes), I always use a chimney to light the charcoals. When the cinders are ash gray, I pour them from the chimney onto the lower grate -- in an even layer if I'm cooking burgers, steaks, or fish fillets. For poultry, pork, ribs, or brisket, I confine the coals to half the grate to create an indirect-heat zone -- placing the meat over the no-coal side.
When I'm setting up for indirect heat, I place a skillet over the hot flame side to saute vegetables. I've even dedicated a rugged cast-iron skillet, which lives outside, under the grill cover, ever-ready for vegetables, sauces, and dessert.
If I'm cooking burgers or steaks (and I usually grill a few spares, to eat as leftovers or cut up into sandwiches), as soon as they come off the grill to rest, I put the pan on the grate to fry some onions. I also put quick-cooking vegetables like zucchini directly on the grill grate.
If there's a sliver of grill space left -- and my tongs and I can usually find one -- I drop on some herbed bread for five minutes.
As we sit down to eat, I put either unpeeled bananas or mangoes on the grill, over the embers. When we're done with the main course, I slice open the charred skin and serve the caramelized fruit over a scoop of ice cream.
See more of our tips, tricks and time-savers for summer entertaining.