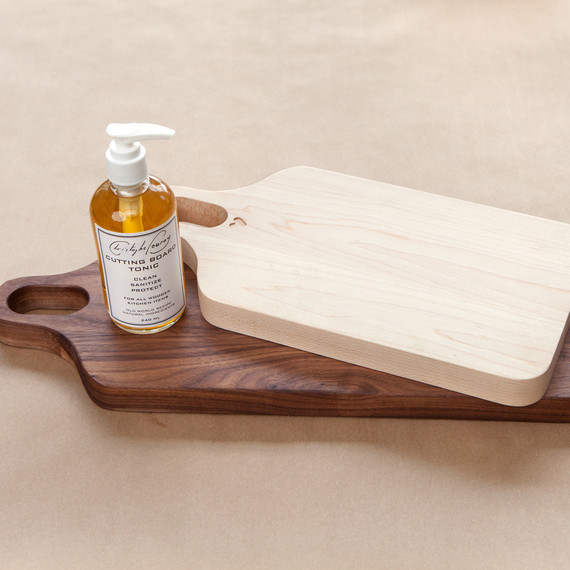 Christophe Pourny Studio Cutting Board Tonic is made with familiar kitchen staples –– white vinegar and rosemary oil –– and raw tung oil, a natural drying agent.
Apply Cutting Board Tonic with a nonfluffy fabric. "People can apply with a sponge, but we recommend T-shirt material," Jobson says. 
Oil brand-new boards frequently to build up a layer of protection. Then oil wood when it starts to feel rough, about once per month: A good rule of thumb for new or damaged boards is once a week for a month, then once a month for a year.
Dry boards thoroughly after washing with hot water; wet boards can crack and harbor bacteria. The rosemary oil and vinegar in the Cutting Board Tonic help to sanitize wood surfaces.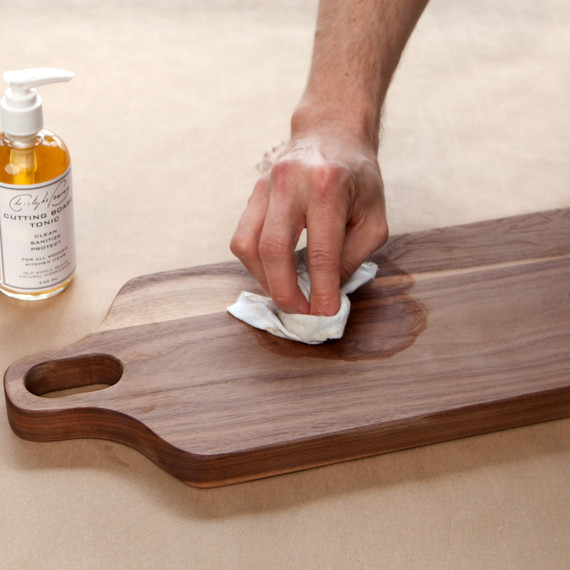 A pump top makes for handy application in the kitchen. "It's unique because there's no mineral oil," says business partner Jason Jobson. "Mineral oil just seals, these oils sanitize and moisturize." 
Christophe Pourny Cutting Board Tonic, $22, American Made Marketplace
Cutting boards by AHeirloom. Shop other styles in the American Made Marketplace