Growing up, my sister and I loathed sweet breakfasts. We were forever digging into leftovers from the night before instead. When we visited the Philippines, we found savory-breakfast heaven in the form of sinangag, a traditional garlic fried rice dish often served with eggs, fish or sausage (plus lots of soy sauce and vinegar). It was hearty and pungent and eaten for breakfast on purpose. Hooray!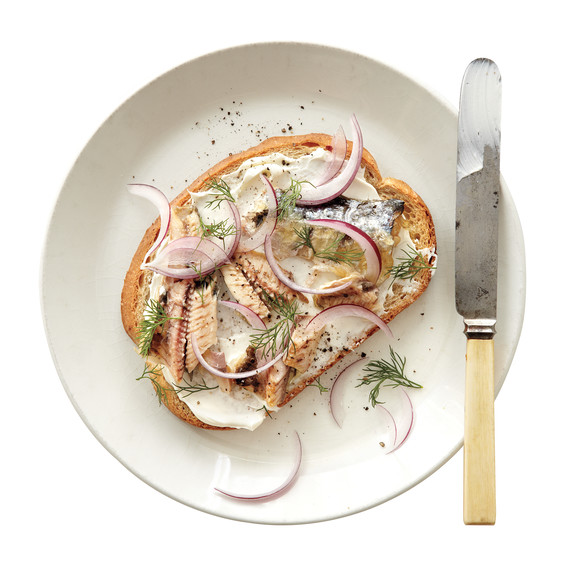 I continue to seek out savory breakfasts to this day. (Starting with a super-sweet breakfast pretty much guarantees a day full of sugar cravings.) These not-so-sweet breakfast ideas are part of my summer arsenal. They get me going and keep me energized -- and even better, they can all be prepared ahead, making them perfect for busy (and hot) summer mornings.
Steamed (or poached) salmon. Leftovers can be so satisfying eaten cold. Top last night's fish with avocado and a squeeze of lemon for a light yet nourishing meal. We had leftover test-kitchen salmon yesterday, and I remembered how fantastic this combination is. It's one of Martha's favorites, too!
Quinoa with the works. Again with the dinner leftovers, but the grain makes it feel like breakfast. Quinoa's a complete protein source on its own -- the only plant-based one, in fact -- but if you're extra-hungry, you can top it off with an egg.
Egg salad. Speaking of eggs, I love the idea of make-ahead egg salad as an alternative to standing over a hot stove first thing in the morning. Don't be afraid of the yolks -- they've got all the nutrients and half of the protein -- but if you're looking to lighten things up a bit, you can swap out half the mayonnaise for Greek yogurt. I'd serve this open-faced on toast or wrapped in dark, leafy greens. Vegetables for breakfast, anyone?
Sardine toast. More fish for breakfast. This is a healthy update on the classic bagel with cream cheese and lox -- the lower-in-fat (but still quite creamy) Neufchatel is a genius swap that really makes this dish. Canned sardines are a super-convenient healthy staple. They add rich brininess and tons of protein to this toast.
Baked oatmeal. An olive branch to the sweet-tooth crowd, this baked oatmeal from Heidi Swanson's Super Natural Every Day is wholesome without being Spartan and tastes like the best soft-baked granola bar you can imagine. Cook once and eat all week long.
Fruit with tahini. Sometimes you just want fruit for breakfast, and this is one great way to do it. The applesauce-sweetened tahini is easy but different, and the toasted coconut really makes it memorable. You could dress any fruit this way -- peaches or other summer stone fruit would be delicious.
What's your favorite hot-weather breakfast?