We hope you've been saving your bacon grease. The U.S. pork industry is grappling with a mysterious epidemic.* The virus, which is harmless to humans but fatal to young pigs, had been reported in 23 states as of January. Pork prices are on the rise, and alarmists are forecasting a bacon shortage. It's Bacongeddon.
Nothing could replace bacon in our hearts and minds, and on our menus -- but as even the most tenacious food crazes are fleeting, it was only a matter of time before our collective fetish was redirected. Many other meats can be cured (that is, preserved and flavored with salt), and may soon be headed for a table near you. These pork-free alternatives will help you keep ahead of the curve.
And if all else fails, make bacon jam. It'll help you survive a good month of the Baconpocalypse while you pinch pennies for your next fix.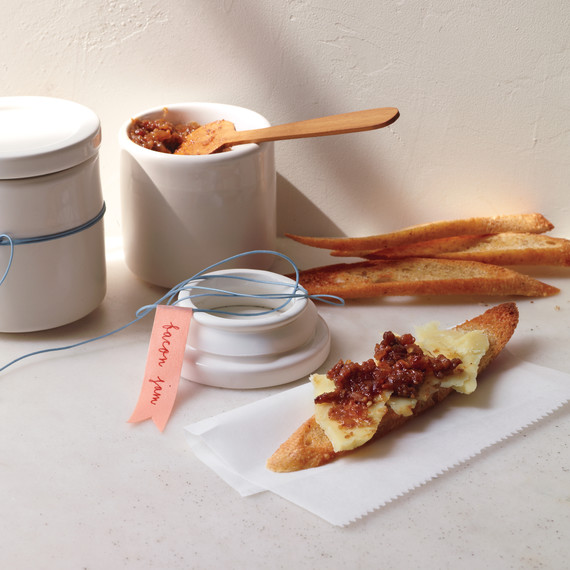 The Birds and the Beasts
Most cured pork products we purchase -- such as prosciutto, pancetta, or coppa -- are named for the cut of pig in question (leg, belly, neck). Any cut can be cured, but each has its own distribution of muscle and fat, giving it a distinct flavor and texture. Most bacon, which is cut from well-streaked belly meat, is also smoked after curing, helping cultivate its complex umami flavor. (Salami and kin are also chopped, fermented, and recompounded before they're sliced and served on your sandwich.)
So what's turkey bacon? Yep, turkey that's been given the salt-and-smoke treatment -- though this "bacon" may not be belly, but a processed compound of several parts of the bird. Duck bacon and duck prosciutto are also fairly common. Nutrition-wise, don't lean on these poultry subs as a get-out-of-jail-free card, as they can contain as much fat and sodium as pork bacon; rather, seek them out as a tasty addition to your brunch, salad, or sandwich repertoire.
Get Cured: Try a Spinach Salad with Turkey Bacon and Blue Cheese, start your next party with Persimmon Wrapped in Duck Prosciutto, or swap in a slice of either on Martha's favorite BLT.
In Red Dress

As with pig, most parts of a cow can be cured. Corned beef is a popular curing preparation -- in this case, brisket is wet-cured in brine and boiled before serving. Like bacon, corned beef can be enjoyed hot or cold; when smoked, it becomes pastrami. Though most often seen piled high on a deli sandwich, either makes a fine main-course protein or breakfast side. You can also flash-fry small pieces and use them like bacon bits (having been precooked, though, they won't lend the same pan-slicking power).
Better suited to a supporting role or charcuterie platter is bresaola, salted beef that's been air-dried and aged several months. Crisp it in heat or enjoy it as is; it's not pig, but it's delicious in its own right.
And don't think the fun stops at beef. You'll find lamb prepared in just about every way mentioned here: thin-sliced as prosciutto or pancetta, and even corned with a side of spicy mustard.
Get Cured: Fry up a pan of Corned Beef and Root Vegetable Hash, stack yourself a Pastrami and Pickle Sandwich, or toss together an Arugula and Bresaola Salad.
Swim for the Cure
Cured fish is, truth be told, less a substitute than its own cult-status entity, but we'd like to highlight it as another way to scratch the itch. Band together a bacon support group and try them all, from smoked salmon to smoked trout (we love Russ and Daughters, and they ship).
And don't forget polarizing anchovies, or the salty umami kick they can lend in unexpected places. You may not eat them whole on pizza -- we don't even eat bacon on pizza, usually -- but you'll love what they bring to salad dressing and deviled eggs.
* Not so mysterious, but we prefer that to its real name: porcine epidemic diarrhea virus, or PEDV.
Have you tried any of these? What's on your bacon bucket list?