Good things are brewing in coffee culture. There have never been more spots to enjoy an exceptional cup of joe, or a more eager and discerning audience. But while tea parties have long been a staple of at-home entertaining, coffee hasn't seen the same love, perhaps owing to its unfortunate ties to harried commutes and midday slumps.
Our mission: to recast coffee from weekday crutch to celebratory event. Our guide: Caroline Bell, whose Cafe Grumpy was recently named Eastern Regional winner of the DaVinci Gourmet America's Best Coffeehouse competition*. With her insights (and plenty of caffeine), we're making "coffee parties" a thing -- one mismatched mug at a time.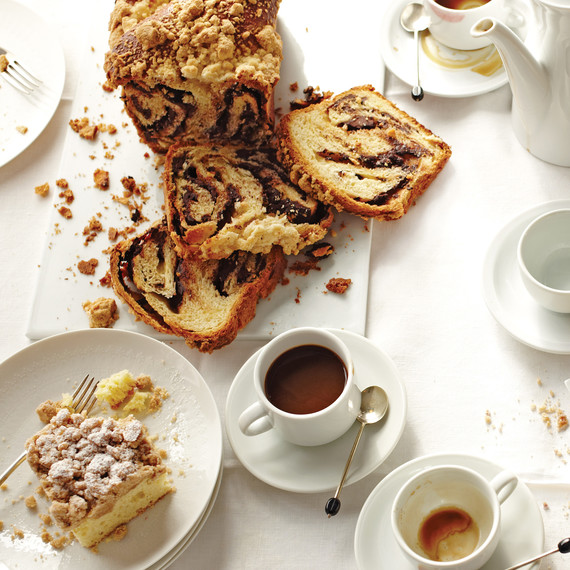 The Edible
No need to whip up custom frappes for your next brunch. Cream and sugar notwithstanding, coffee consumption is rooted in basics. "Most people want 'the usual' -- brewed coffee, or a standard espresso drink like a latte or cappuccino," Caroline explains. "When the quality's there, there's no need for an elaborate menu. We focus on well-sourced beans, which we brew by the cup or in larger batches using a special filter." To give a homemade mug the same attention to detail, forego the instant and bust out the Chemex -- and do spring for top-shelf beans.
Even Grumpy knows how to bring it for special occasions, though, and their signature "coffee soda" helped clinch the America's Best Coffeehouse win. "It's just cold-brew concentrate, seltzer, and a bit of simple syrup. It's light and refreshing, but still feels special," Caroline says. Grumpy doesn't typically sell the drink in stores, but it's a recurring feature at fairs and public events. If it strikes your fancy, don't sleep on a signature sip (see our ideas here and here).
Every party needs snacks, and the treats we enjoy with our coffee leave room for creativity, too. Grumpy's (in-house) baking philosophy is anything but stale. "Our beans rotate seasonally, and our baked goods follow their lead," Caroline says. "We stick to traditional coffee snacks, but with a twist -- we've got a doughnut-muffin hybrid, for instance, and a banana bread with cardamom and black pepper. We're often inspired by the tasting notes in our coffee." Oh, and P.S.: "Our chocolate-chip cookie recipe is Martha's!" she reveals. Follow their lead, or whet your appetite with more kicked-up coffee treats -- delicious shared with visiting friends or paired with your morning paper.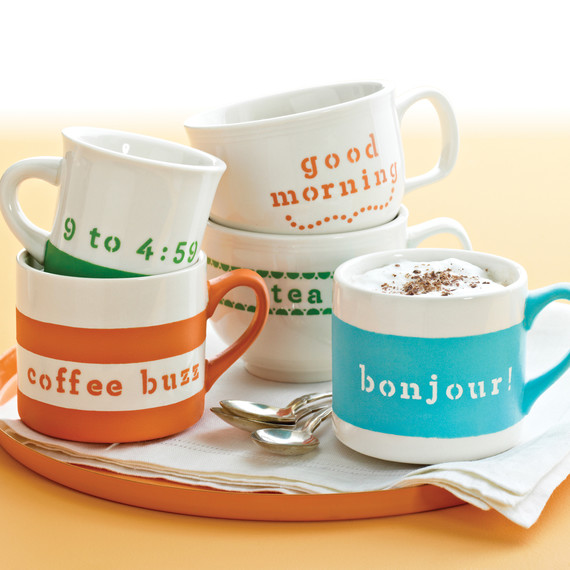 The Environmental
Don't sweat the details when entertaining al cafe. Your home probably has the laid-back charm that cafe owners hope to emulate. "It's warm light; it's unfussy furniture; it's clean without being sterile," Caroline says of her coveted aesthetic. "It's that feeling of hanging out in your own living room, but with details that make it somehow more."
For Grumpy, that means mismatched mugs, communal tables, custom wood countertops, and local art on the walls. For at-home entertainers, Caroline insists that the goal should be to welcome, not to impress. "People like to spend time in inclusive, lived-in spaces," she says. She even suggests a riff on Grumpy's eclectic pottery collection: "A bring-your-own-mug party would be cute!" We say, clear some space near a window and let your guests come as they are -- pinkies decidedly at rest.
And the tunes? "We leave it for our baristas to decide. They're great at putting out energy as well as reading the crowd, so it works for us," Caroline says. "Nothing too loud or offensive, but beyond that, it runs the gamut. You'll hear opera in the morning, and Madonna in the afternoon." Hear that, bashful fans? Expressing yourself -- and your taste in music -- may, in fact, be the makings of a hit.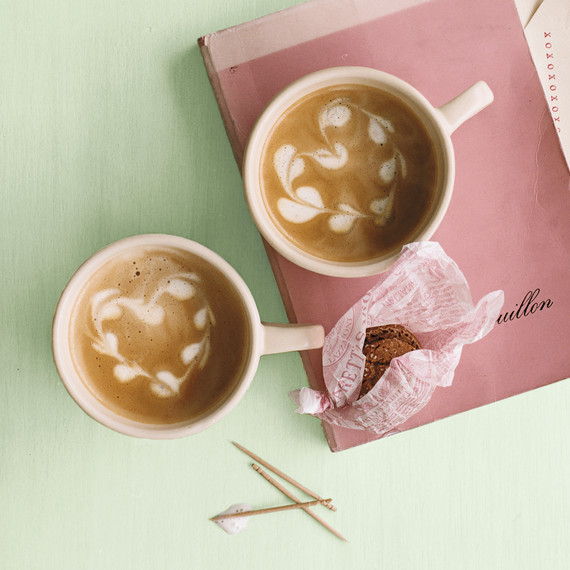 The Indescribable
The act of visiting a coffee house is inherently communal, suggesting our desire to connect as we caffeinate. All the more reason to welcome the ritual -- and our friends -- into our homes. "The 'serious coffee' movement has a snobby reputation, but it doesn't have to be that way," Caroline insists. Just as fine dining is growing democratized, we should view quality coffee as an exciting and even educational way to share rather than compete.
Coffee is coffee, no matter how you brew it. But the luxury of lingering over a mug, especially with company, energizes us in a way that no harried to-go cup can replicate. So go ahead, bring your own mug -- and walk away with a buzz that recharges in more ways than one.
* The America's Best Coffeehouse competition was held during Coffee Fest, the premiere trade show for industry all-stars and java enthusiasts.