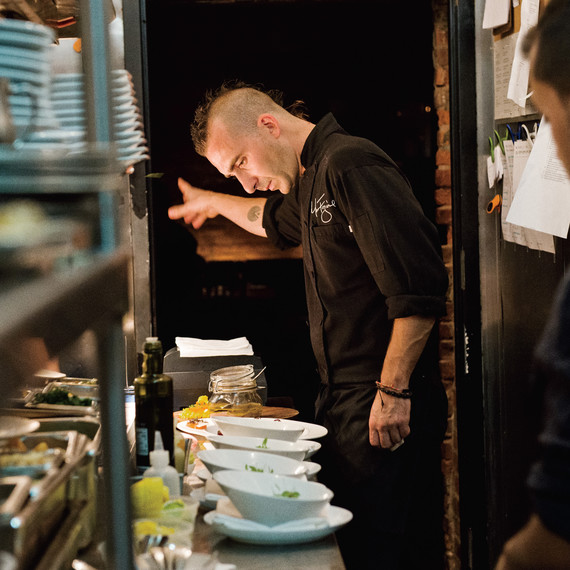 What has propelled you so far so fast?
I don't know what it is; I don't know how to describe it. It's kind of a curse too, but I'm never satisfied. People around me say relax and enjoy it, but I change things every day at the restaurant. On my day off, I stress about nothing. Guess you could say I'm obsessed; maybe we should say I'm passionate and dedicated. [Martha, take note: Marc wants to do radio when he stops cooking, whenever that might be.]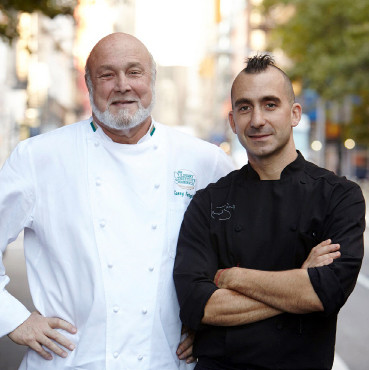 Your father is seminal chef Larry Forgione, one of the fathers of modern American cuisine. Did you always know you wanted to follow in his footsteps and be a chef?
No, I had always been attracted to music, but I'm a much better cook. Growing up, I thought cooking was something everybody knew. Never looked at it as an exotic thing or a talent, just something you needed to know how to do. I grew up that way, not just from my dad, but from my grandfather who is Italian and my mother who cooks. My mom and my grandfather were the first "chefs" I worked under and learned from. It was my mom who showed me how to flip an egg sunny-side up, make a meatball, make salad dressing. There was always food in our house.
I think I had an aha! moment when I was 22 or 23 and just started to fall in love with the business and with creating and making new things and reading cookbooks. That's when my obsession with cooking kind of started. It's still 100 percent my obsession.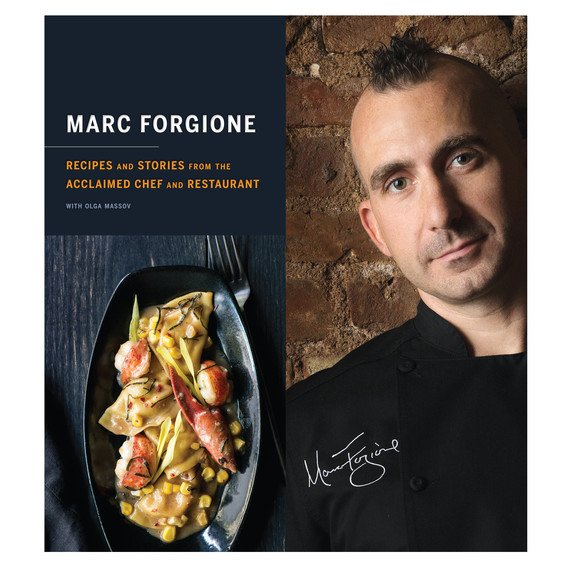 What made you want to write the book Marc Forgione: Recipes and Stories from the Acclaimed Chef and Retaurant? You needed another challenge?!
I really wanted people to know the story. Obviously the recipes had to be in there, but I really wanted people to know the story -- it was a really hard road to where we are now. A lot of people think that because of my name and having done TV, that it was easy, but it was actually harder, I think, carrying the name than most people realize. I had to be twice as good; the critics look at me differently, treat me differently. Other chefs treat me differently, whether they admit they do or not. So I really had to prove myself. My dad didn't buy me a restaurant -- and raising the money for the restaurant was the hardest thing I have ever done.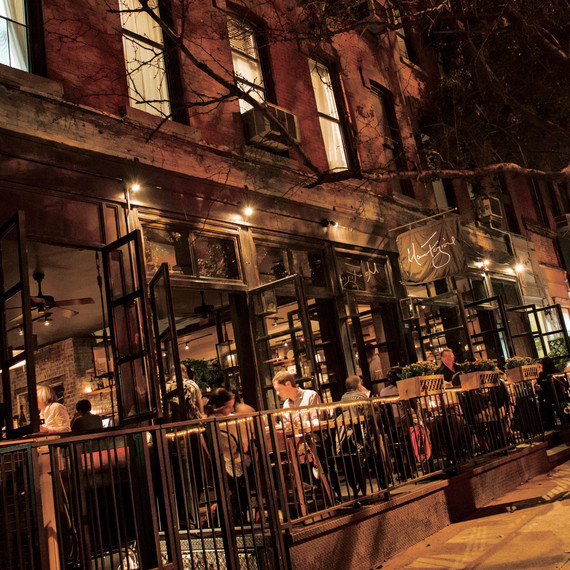 In addition to the story of the evolution of restaurant Marc Forgione and its inspiring recipes, your book has a relaxed, helpful tone and some very useful photo-technique sections.
You know what is funny about that? When we were taking the photographs of trussing a chicken, I asked my cooks -- and these kids are "professional chefs" -- how many of them knew how to truss a chicken, and half of them didn't ... and they work in a restaurant. That was when the light went off; if they don't know how to truss a chicken, they don't know how to fillet a fish. If they don't know how to fillet a fish, they don't know how to skin a fish. Why not just show people these little tricks that I think are very common and normal? I realized readers would benefit from seeing how they are done.
Oh, and about the hair?
It's not much of a story, I've had it since college. Every time I think of doing something different, I don't know what to do, so I keep it.
Visit Restaurant Marc Forgione
For more interviews, tune in to "Martha Live" on SiriusXM Stars Channel 106 weekdays 12pm ET to 2pm ET.
Call in with questions: 866-675-6675.