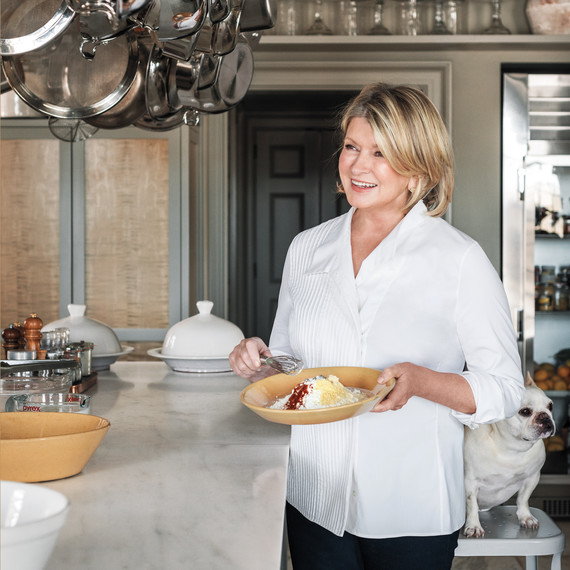 I might think of them as "my" secrets for the best fried chicken, but in fact these excellent tips for crispy, golden, moist, tasty, incredibly delicious fried chicken were shared with me one night in Amarillo, Texas. It was a tradition in Amarillo on Tuesday nights that local cooks would gather together to prepare their personal-favorite recipes for one another, not just their respective bosses. One week everyone might make Texas barbecue; the next, fried fish; the next, chili. I was fortunate to be invited to fried-chicken night, and it was in the kitchen of one of the cattle barons that I was made privy to the fried-chicken secrets.
This was quite a few years ago, but I remember the evening clearly. It was a hot night. The winds were blowing, and the air was heavy with the scent of the feedlots not far away. But my attention was focused on the big frying pans on the huge gas ranges in the ranch-house kitchen. Maybe 10 fryers had been cut into 10 pieces each and soaked overnight in salted ice water. That morning the cooks had drained off the salted water and placed the chicken pieces in big earthenware bowls filled with buttermilk seasoned with coarse salt, black pepper, cayenne, and dry mustard.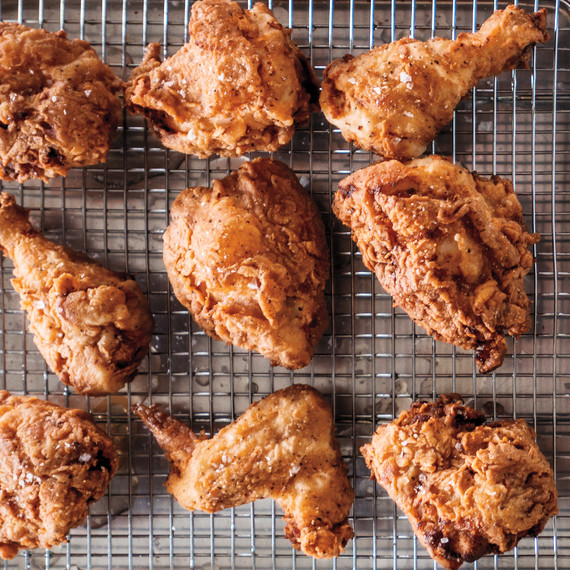 Giant cast-iron frying pans were lined up on the tops of two large ranges, and globs of white vegetable shortening were plopped into each pan. After the guests had arrived and were sipping cocktails, the flames were ignited, and the shortening started to melt. Deft fingers lifted the chicken parts from the buttermilk, dipping them quickly but thoroughly into flour that had also been seasoned with coarse salt, black pepper, and cayenne (cornmeal was added for extra crunch).
After being sorted into like sizes, the chicken pieces were carefully slipped into the now perfectly heated fat and quickly and expertly fried to a deep golden brown. As they were finished, the pieces were removed to trays covered in brown-paper bags to drain, sprinkled with a bit more coarse salt, and then served on white platters.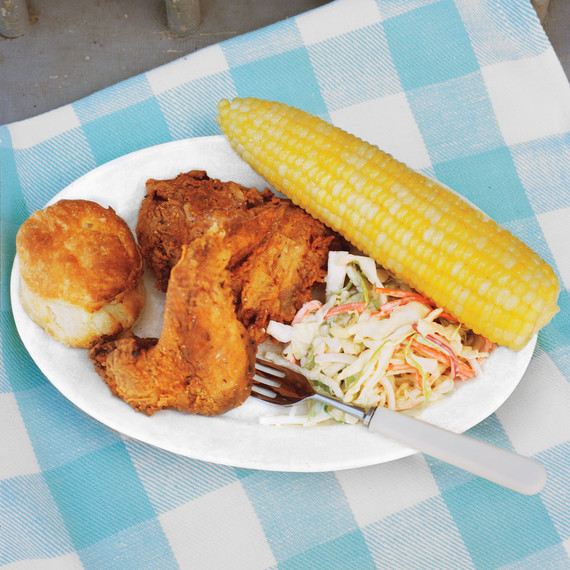 The sides were delicious, too: farm-fresh sliced tomatoes, thick slices of sweet Texas onions, coleslaw, potato salad, and pitchers of beer -- the perfect dinner for a hot summer night.