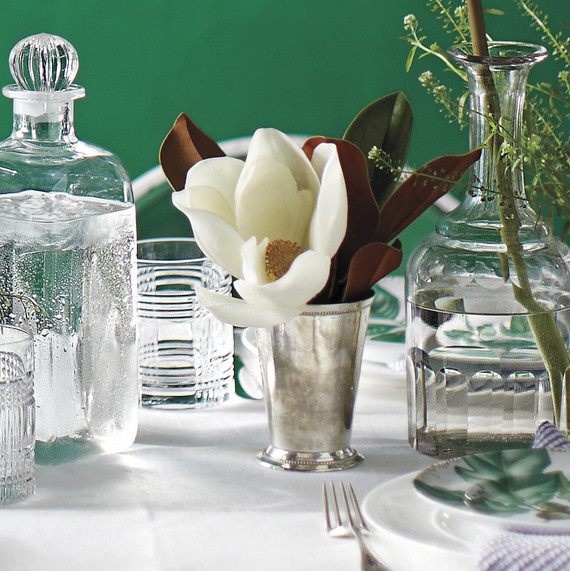 I've always had a thing for julep cups. I'm not sure when the infatuation began; I've got good associations with occasions where they tend to appear, and I've always appreciated the light that silver brings. Martha gave me a monogrammed set from Tiffany's a few years ago, and it's one of my favorite gifts I've ever received.
In honor of the Kentucky Derby (the mint julep's unofficial holiday), here are three of my favorite ways to use these bright and shiny vessels around the home. They're available in many price points and styles—sleek Art Deco, softer hammered silver—so you can easily adapt these ideas to your own taste.
One day, when I grow up, I want a set of solid-gold cups. (Here's hoping!)
On the table: A julep cup makes a charming vase or centerpiece—it looks polished, but not overthought. I'd also use them as place settings for an intimate brunch or dinner party. If you were feeling generous, I suppose you could send them off as party favors, too!
Amidst the buffet: I love filling julep cups with candy canes in December, but they make a sweet serving vessel any time of year. The shape works best with oblong treats, like licorice or old-fashioned lollipops. They're also the perfect size for silverware: Imagine a tangle of colorful straws for soda floats in the summertime. What fun!
[BE INSPIRED: 8 Ways a Teacup Can Declutter and Improve Your Life]
By the sink: Confession: I've currently got my comb and toothpaste stashed in one of these. Why not, right? When you find a design element that makes you happy, figure out how to incorporate it into your everyday life. That's the difference between "good taste" and decor that truly feels like you.
Enjoy the Derby, if you're watching! Have a julep on me, and watch how to pour one out here: