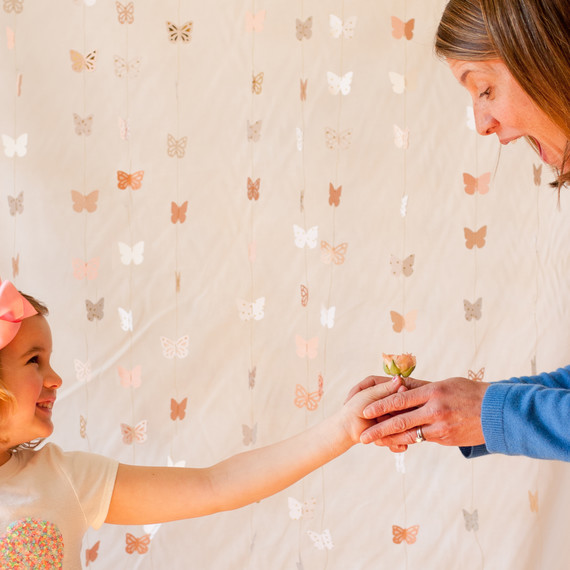 For butterfly backdrop:
1. Punch a combination of lacy and solid butterflies from various decorative papers in your color theme with Martha Stewart Garden Butterfly Layering Punch.
2. String the butterflies by bringing a needle and Martha Stewart Doily Lace Gold Thread through the center of the butterflies.
3. Begin your stitch near the bottom of the butterfly and end your sitch near the head. Alternate which direction you sew with each butterfly (string a butterfly with your stich on top, and next, string a butterfly with your stitch underneath). This will help the strand of butterflies hang better.
4. Hang as a backdrop to your brunch table.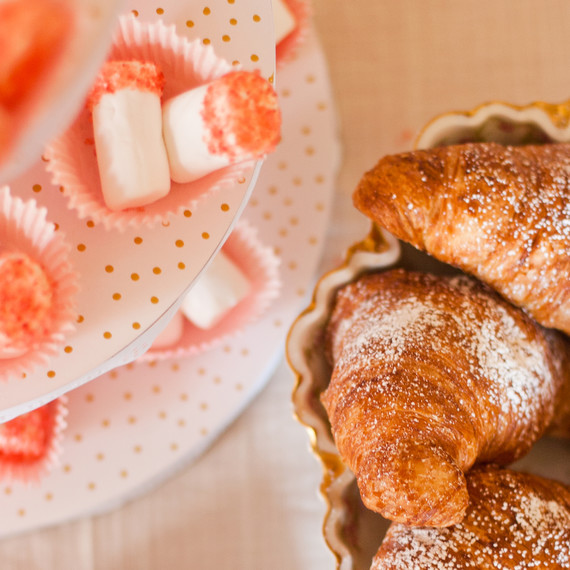 Customize the Doily Lace Cupcake Stand to match your party, like this one with fun gold-paint polka dots. Use a paint pen to paint all exposed edges a glittering gold.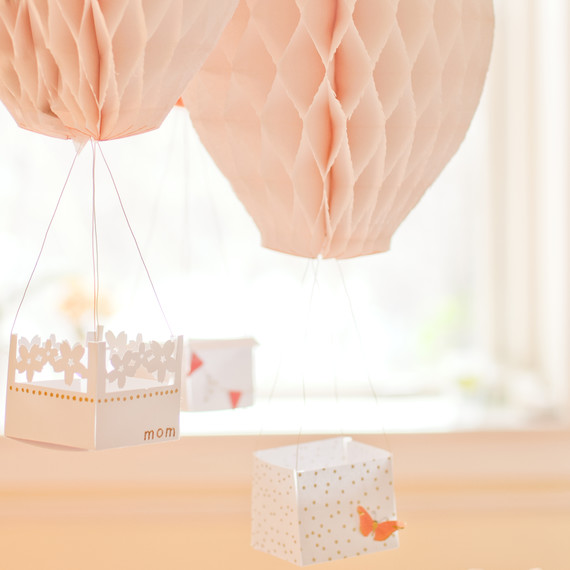 Transform simple tissue paper balls into magical hot-air balloons.
1. Cut the circle into a balloon shape.
2. Make a basket by crossing two 8.5-by-3-inch pieces of cardstock in the center. Measure and score a line 2.75 inches in from each short end. These 3-by-2.75-inch rectangles will become the sides of the basket. The center section of your strip of paper will be a 3-by-3-inch square, which will form the bottom of your basket.
3. Paint or punch your basket sides as desired. Cross the two pieces of cover stock one on top of the other such that the 3-inch squares lay on top of one another.
4. Fold and raise the sides of the basket. Attach the basket sides using clear tape on the inside.
5. Embellish baskets with punches (Cherry Blossom Deep Edge Punch), stickers, and paint.
6. Add baskets to balloons with gold thread from each corner, and hang!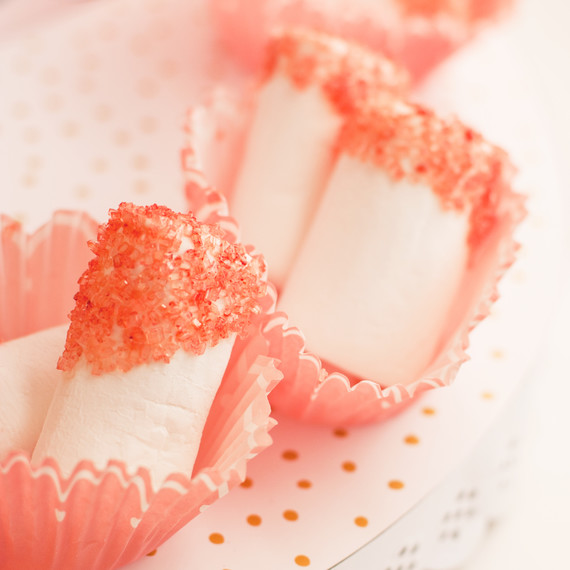 Make sugar-dipped marshmallows in a color to match your palette. Dip the corner of each marshmallow in water, followed by a plunge in a bowl of crystallized sugar. The treats look charming in Vintage Girl Cupcake Wrappers.
Martha Stewart products used: Doily Lace Gold Thread, Garden Butterfly Layering Punch, Cherry Blossom Deep Edge Punch, Vintage Girl Cupcake Wrappers, Doily Lace Cupcake Stand, and Butterfly Stickers, all available at Michaels Craft Stores.