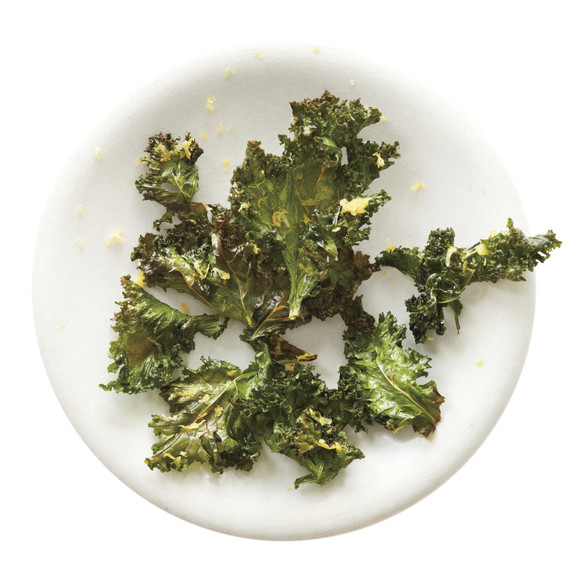 Unless you've been living under a rock, you know that greens are good for you. You probably also know that kale tops the charts when it comes to nutrients per bite. But if the leafy green hasn't always been your family's favorite, it's time to introduce kale chips to your rotation. This crispy, salty, totally addictive snack has moved out of the "hippie food" category and gone mainstream. If you haven't yet tried making your own kale chips, you are missing out! And if you have made your own kale chips, why not punch them up a bit? Read on for our favorite formula for perfect chips, plus some speedy seasoning ideas.
BASIC BAKED KALE CHIPS
Tear the leaves of one bunch of curly or flat-leaf kale into 2-inch pieces and toss with a tablespoon (or two, depending on how healthy you're trying to be) of extra-virgin olive oil and a teaspoon of coarse salt. Spread the kale out on a large rimmed baking sheet (use two baking sheets, if necessary -- the kale should have enough room to bake in a single layer).
For dry, crisp chips: Bake at 300°F for 30 to 35 minutes, stirring halfway through.
For toasted chips with browned edges: Bake at 350°F for 12 to 15 minutes, stirring two or three times.
FAST IDEAS FOR FRESH FLAVOR
Kale Chips with Kick: Add a teaspoon or two of Sriracha sauce to the oil before tossing with kale and baking.
Lemon Zest Kale Chips: Finely grate lemon zest over the kale chips as soon as they come out of the oven.
Soy Sauce Kale Chips: Replace half the oil with soy sauce and cut back on salt for some savory, umami flavor.
Double-Healthy Kale Chips: Sprinkle with nutrient-rich nutritional yeast. (Okay, this might seem throwback to "hippie food," but trust us, it's delicious! The chips taste nice and cheesy.)
Chili-Lime Kale Chips: Mix a bit of chili powder in with the salt, squeeze lime juice over kale chips when they're hot out of the oven.
Ready to try Turkey Sloppy Joes with Kale Chips?
In the Mood for More Kale? Check Out Our Collection of Kale Recipes