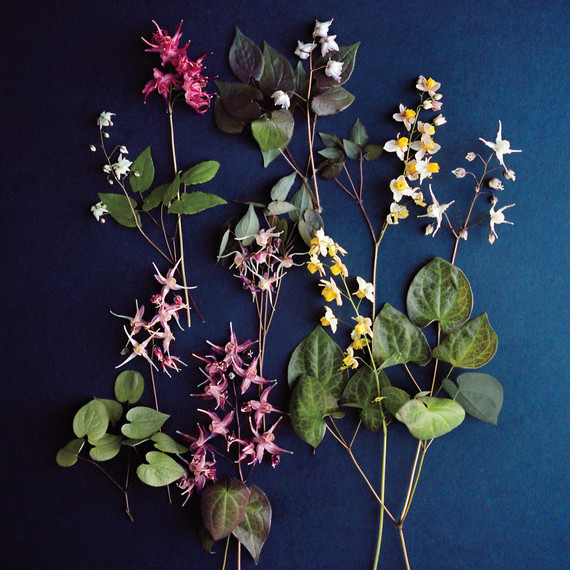 Don't be fooled by their sweet appearance. "Epimediums may look delicate, but they are tough," says Karen Perkins, owner of Garden Vision Epimediums (epimediums.com), a mail-order nursery in Massachusetts specializing in the shade perennials. Martha grows them throughout her Bedford estate and knows firsthand that the plants are hardy and drought-tolerant. They spread slowly through woody underground rhizomes, developing a deep root system as they grow. Although adaptable to many environments, these deer-resistant beauties do best when planted in a shady location with good drainage. They are self-sufficient once established -- they should be watered during their first year in the ground, however -- and can live for decades with very little care. Each spring, epimediums, also known as bishop's hat, fairy wings, and barrenwort, unfurl clusters of small orchid-like flowers in a variety of hues. But the show doesn't stop there. The flowers of certain varieties have a second act, blooming again before summer. Not to be outdone, their heart- or arrow-shaped leaves put on their own performance, often changing color throughout the growing season -- one more reason to love this delightful plant.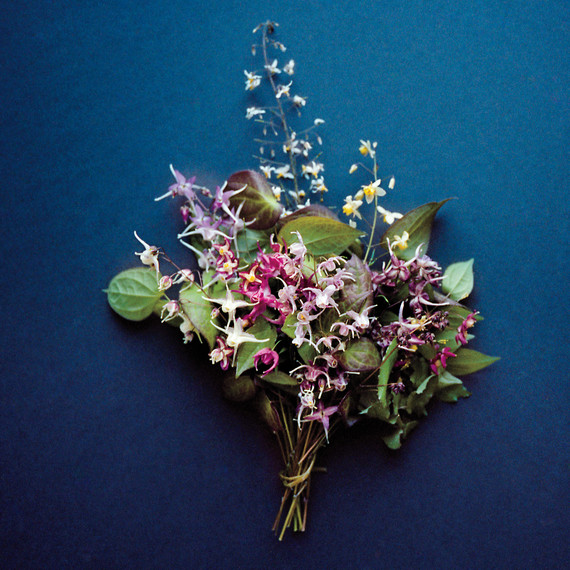 'White Cloud'
Epimedium x youngianum
Clouds of fragile white flowers become more spectacular when given just a few hours of sun a day. Purple-rimmed green leaves appear in the spring.
'Yubae'
E. grandiflorum
Leaves emerge bronze, followed by showy magenta blooms tipped with white. 'Yubae' will often bloom a second time, with flowers and foliage reaching up to 18 inches in height.
'Tamabotan'
E. x youngianum
This epimedium sprouts small, attractive eggplant-colored leaves and ruffled lavender-and-white flowers in spring. It grows to be almost two feet tall and will cluster into a mounded form.
'Strawberry Blush'
E. x versicolor
A semi-evergreen variety, this cultivar has pale-pink petals surrounding dainty yellow cups. In spring, its leaves are tinged with red, but by summer they turn entirely green.
'Silver Queen'
E. grandiflorum
Large white flowers with lavender highlights burst forth above leaves the color of rust come spring. 'Silver Queen' is one of the first varieties to crop up.
'Tama No Genpei'
E. grandiflorum
Masses of mauve-pink-and-white flowers pop up each spring above reddish-purple foliage. This Japanese cultivar blooms twice.
'Lilac Cascade'
E. x
The foliage is the star here: Mounds of rose-colored leaves appear first, then develop a border of red before turning all green. The leaves repeat their spring show after the first flush.
'Dark Beauty'
E. grandiflorum
With deep, dark, almost velvety leaves in spring and large purple-and-white blossoms, this early cultivar has two foliage color changes.
'Sulphureum'
E. x versicolor
It does well in even the densest of areas; 'Sulphureum' spreads four to five inches a year. Sprays of pale-yellow-and-white flowers appear with variegated red-and-green leaves in spring.