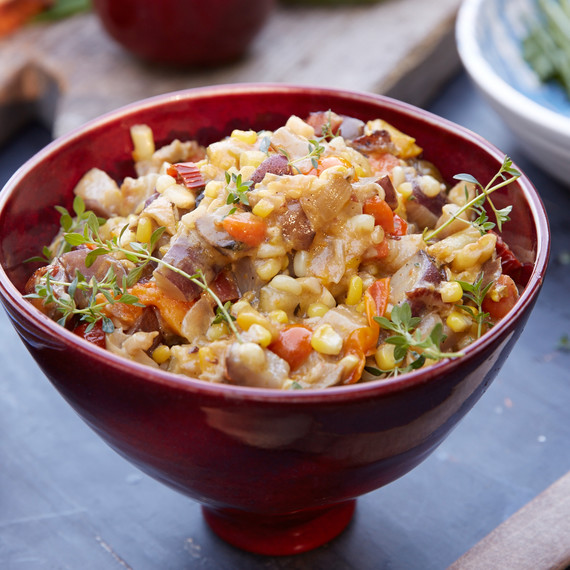 For this recipe, I use purple potatoes from my garden; they add an extra spot of color to the dish.
1/4 cup plus 2 tablespoons extra-virgin olive oil
1/2 cup diced bacon, preferably organic
6 small potatoes, scrubbed and diced 
1 onion, diced
2 carrots, chopped into half-inch pieces
2 small zucchini, chopped into half-inch pieces
1 cup yellow wax beans, chopped
1 cup fresh beans such as cannellini, broad, or lima
1 cup fresh corn kernels (from 2 ears)
3/4 cup chopped wild mushrooms (oyster or shiitake or a combination)
2 cloves garlic, minced 
Coarse salt and freshly ground pepper
1 tomato, diced
2 to 4 tablespoons fresh herbs, such as rosemary, thyme, and flat-leaf parsley, plus sprigs for serving 
1 cup chicken stock
1/2 cup heavy cream
Juice of a 1/2 lemon
1. In a large cast-iron skillet, cook oil and bacon over medium heat until crisp, stirring frequently, about 5 minutes.
2. Add potatoes, onion, carrots, and zucchini and cook until vegetables soften and brown, stirring occasionally, about 5 minutes. Add yellow beans, fresh beans, corn, mushrooms, and garlic (and more oil if necessary). Season with salt and pepper and cook, stirring, for another 5 minutes.
3. Stir in tomato, and then add herbs, stock, and cream. Cook over medium heat until liquid is slightly reduced, about 10 minutes. Stir in lemon juice and season with salt and pepper. Reduce heat to low and simmer for 15 minutes. Serve immediately, topped with herb sprigs.
Contributor recipes are not tested by the Martha Stewart Living test kitchen.