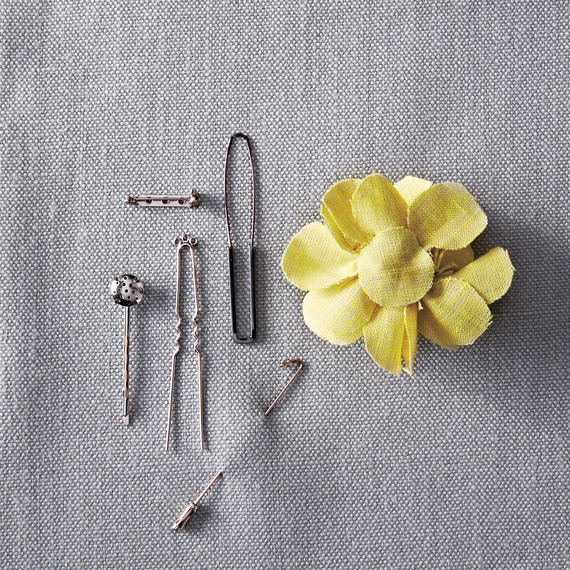 You can decorate a top, a hat, or a hairstyle with one of these flowers -- it just depends on which pin or clip you choose.
1. Brooch
A classic pin backing -- sew on the flower and attach it to a garment.
Nickel brooch pin (#BP09n), $1, tohoshoji-ny.com
2. Shawl Pin
Slide the point through the flower's back, then use it to hold a scarf closed.
Shawl pin (#LM-9), $24, habutextiles.com
3. Hatpin
Try this pin without its catch to adorn a hat. With the catch, it works as a lapel pin.
Nickel hatpin (#RP-72), 70 mm, 50 cents; and nickel hatpin catch (#KB-11.3), 11 mm, 75 cents, tohoshoji-ny.com
4. Bun Pin
This U-shaped pin sticks securely in a bun.
Hair stick, type U, 75 mm, $2, tohoshoji-ny.com
5. Bobby Pin
An upgrade on the basic hair clip, it has a perforated end that's easy to sew through.
Hairpin with screen disk (#HP10), 10 mm, $2.25, tohoshoji-ny.com