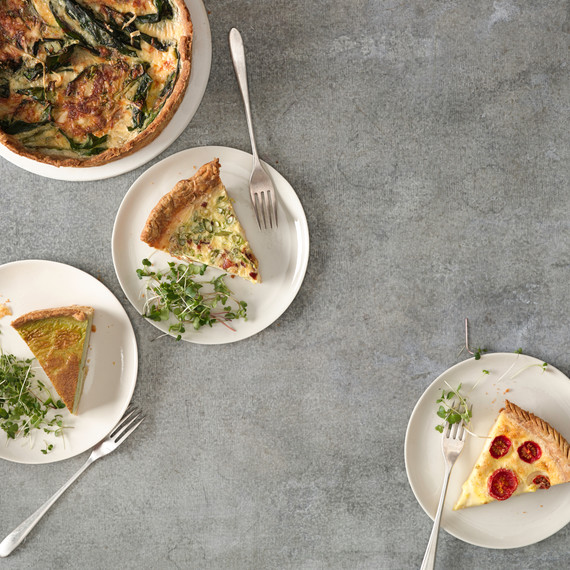 She's not only our editorial director of food and entertaining, Jennifer Aaronson is also our resident quiche-making expert. After making more than 30 quiches to perfect her recipes, we asked her what she's learned and we need to know about the art of making these savory custard-filled tarts:
Use a sturdy crust: The biggest fail with quiche is when the custard leaks through the crust. To combat this, a sturdier dough (not pate brisee) should be used. If the crust is too flaky, tiny holes will form. I used a crust with egg in it for better structure.
Don't be afraid of the custard: It's so simple, just eggs, milk, and cream. These three in combination produce an incredibly silky, luxurious filling.
Save some for later: Quiche can be reheated -- the custard will hold up fine. The crust will get soggier over time, but the custard retains its silkiness -- plus it tastes so good it'll likely go quickly.
Think French: In its homeland (northeastern France), quiche is not typically made with cheese -- nor do you necessarily need it. Too much will just weigh down the custard, whereas without it the custard remains delicate and silken.
Have a light hand with add-ins: Whether you choose cheese or not, don't go overboard filling the custard with ingredients -- the fixings are best stirred in before the custard is added to the crust, or placed on the filling once it's in the prebaked crust. You still get the silky custard plus the flavor of the add-ins.