Jean-Georges Vongerichten chatted with us about his newest restaurant, the Inn at Pound Ridge, located an hour outside of New York City in Pound Ridge, New York. He also shared the recipe for his coveted crab toasts.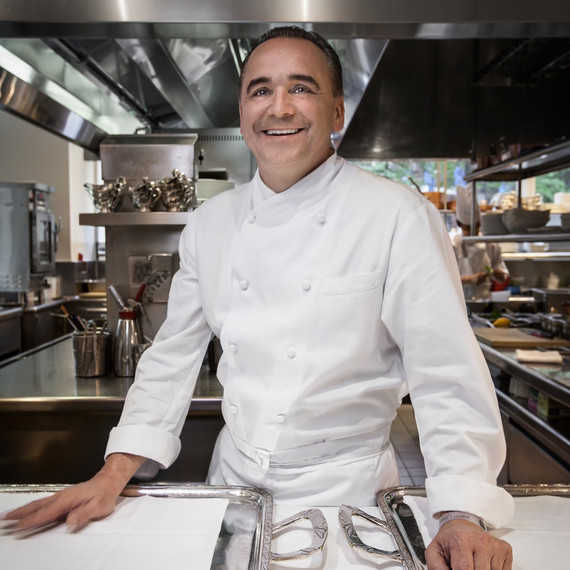 You've opened restaurants all over the world, from Shanghai to the Caribbean. What is it about Pound Ridge, New York, that excites you?
I think what's great about the Inn is that it's not just a restaurant -- the whole area is an experience. Pound Ridge is about five miles from our country house. When you go every weekend for the last ten years without fail, well, that starts to feel like a home. A couple of years ago, the owner of the property at the time approached me about the place. I was very intrigued by the history of it, but I wasn't looking to build a restaurant at the time. Then a little while later, the offer was still standing, and I was ready. We wanted to keep the soul of the place, but we had to install modern amenities, so that took some time. But now that everything's finished, I'm very happy.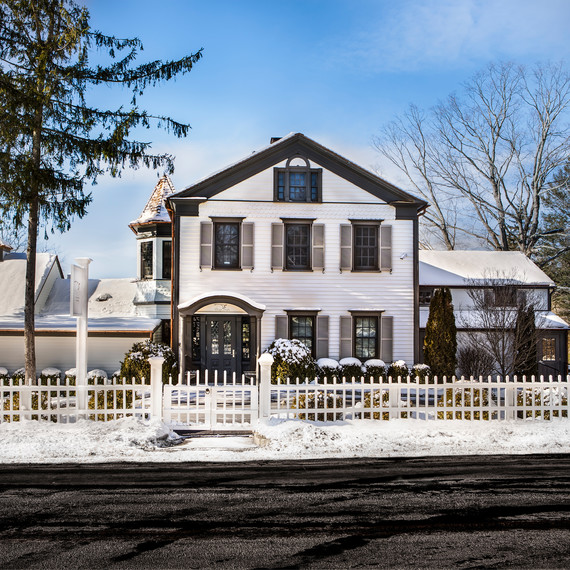 Almost all the food at the Inn is farm-to-table, including the maple syrup and even the wines, many of which come from Westchester County. In your New York City restaurants, too, you've always placed a great emphasis on local food. Why is this so important to you?
At ABC Cocina and Kitchen, 90 percent of our produce and vegetables come from Union Square, and that's all from upstate New York farmers. We are simply committed to this idea of local, organic food. Right now at the Inn, there's still snow, so there's not much growing up there. But we are still going to make it work because we're devoted to this farm-to-table approach. We work with farmers who have greenhouses -- that's one way to get around the weather. When it gets warmer, we'll be working with other local farmers for vegetables, fruit, eggs, chicken, everything.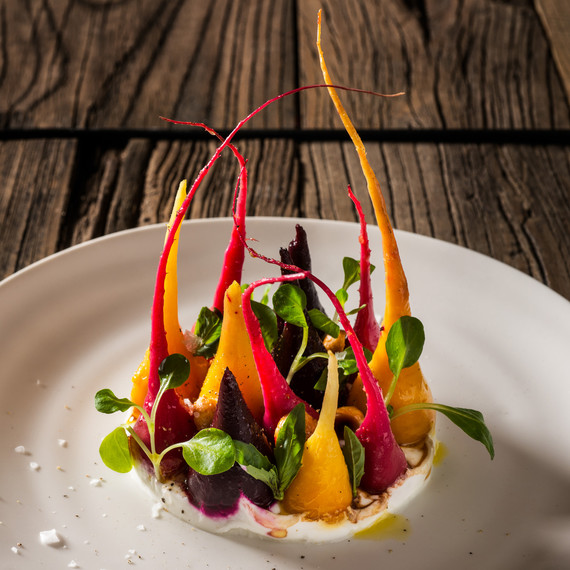 The Inn feels down-to-earth, comfortable, and familial. How did you go about creating that atmosphere?
Local food, warm lighting, lots of sharing ... this all contributes to the mood. Sharing is most important, though. Many things on the menu are for two, or for the whole family. I want the feel to be "coming home." At the restaurant, there's lots of families, lots of people coming to eat together, and people are less rushed than in the city.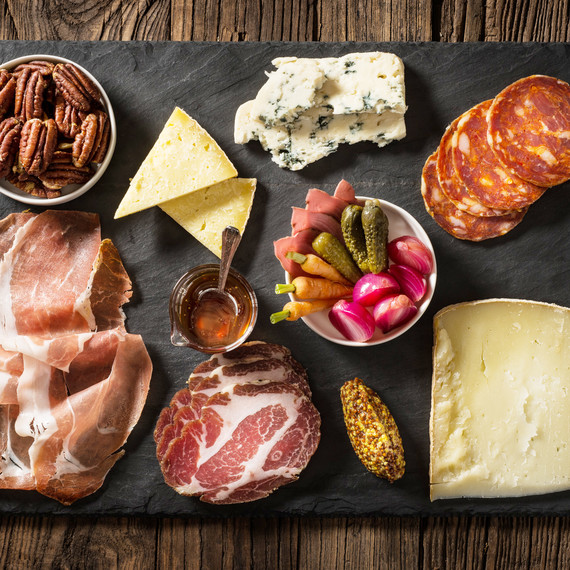 What's your favorite item on the new menu?
Right now, my favorite is our special, the lamb baeckoffe. I'm from Alsace, and this stew is an Alsatian meal. It's a really hearty one-pot meal, so people have to dish it out onto their plate. It makes the entire restaurant smell wonderful. Martha orders it a lot. It's a lamb shank with potatoes, vegetables, carrots, and white wine, and it cooks for about four hours in the oven in a clay pot.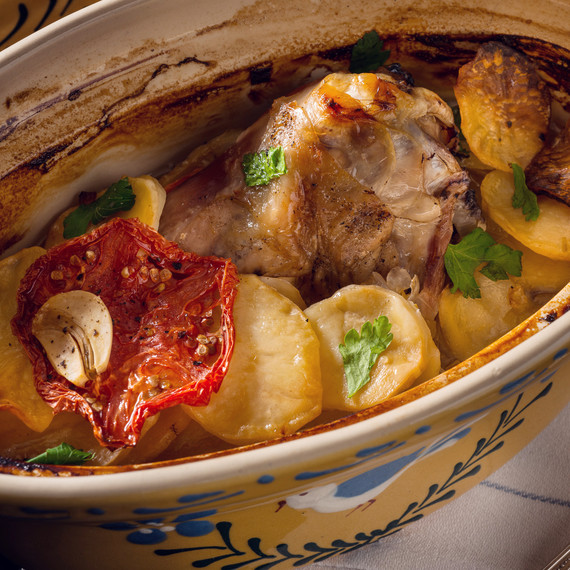 Tell us about husband-and-wife team Blake and Melody Farrar, who run the kitchen at the Inn together.
A couple in the kitchen! Yes, I never had it before. It's rare, I suppose. Blake worked at the Mark Restaurant for four years, and then he married his wonderful wife last October. Melody was the pastry chef at ABC Kitchen and Cocina. She grew up in the city, but Blake is from the Midwest and he's more of a country boy. Anyway, he came to me a while back and he said, "I heard about Pound Ridge and the new restaurant, and my wife and I would like to try that for a change of pace." They wanted to get themselves a house and work together. Now that's a nice story.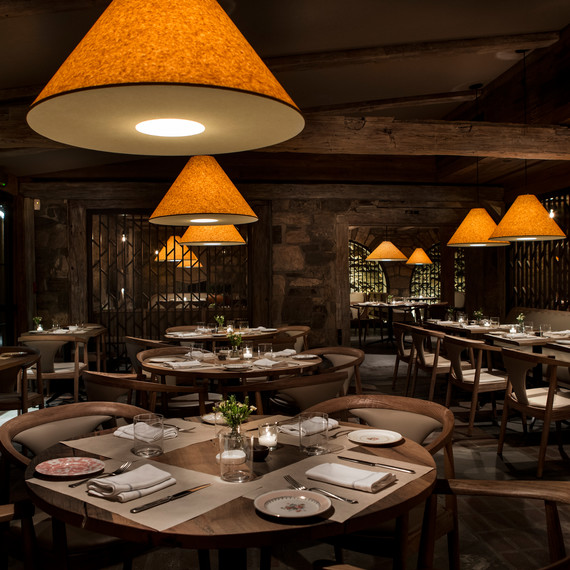 You've made your mark on so many cities and countries. Is there any place where you're still dreaming of opening up a restaurant?
We have Paris, we have New York, we have the Caribbean, Shanghai ... everywhere. I feel like I've gotten to all these wonderful places, and I am happy about that. But actually, I'd really love to do something in Bali, up in the mountains. A little restaurant with that scenery would be beautiful.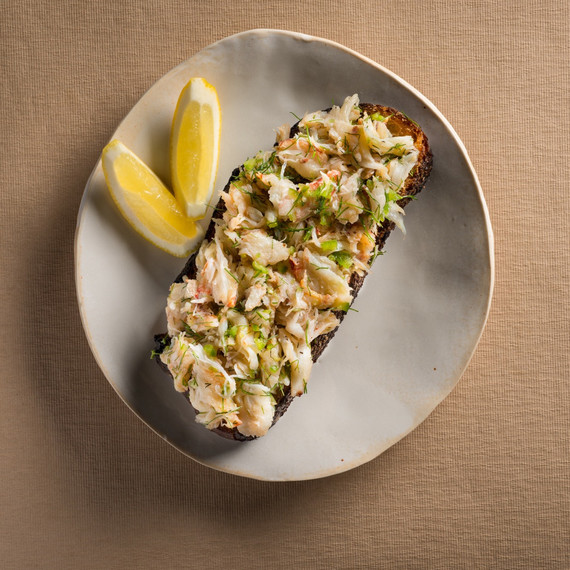 - - - - - - - - - - - - - - - - - - - - - - - - - - - - - - -
Crab Toasts with Sriracha Mayonnaise
Jean-Georges shares a variation on the Peekytoe Crab Crostini with Garlic Aioli offered at the Inn at Pound Ridge.
Reprinted from Home Cooking with Jean-Georges by Jean-Georges Vongerichten. Copyright © 2011. Published by Clarkson Potter, a division of Random House, Inc.
Serves 4
Ingredients:
4 slices good sourdough bread
3 tablespoons Sriracha Mayonnaise (recipe follows)
8 ounces picked lump crabmeat, preferably peekytoe, picked over for bits of shell
Crushed red chili flakes, optional
1 lemon, cut into wedges
Sriracha Mayonnaise:
1 large egg yolk
1 tablespoon Dijon mustard
1/2 teaspoon kosher salt
3/4 cup grapeseed or other neutral oil
2 teaspoons fresh lemon juice
2 teaspoons Sriracha
To Make the Sriracha Mayonnaise:
Whisk together the yolk, mustard, and salt until well blended. Continue whisking while adding the oil in a slow, steady stream to emulsify the mixture. Whisk in the lemon juice and Sriracha until well blended. The mayonnaise can be refrigerated for up to 2 days.
To Make the Crab Toasts:
Toast the bread until golden brown. Cut each slice into 2-inch pieces. Gently fold the mayonnaise into the crabmeat until well mixed. Spoon the crab mixture into a serving bowl and set inside a larger serving bowl filled with ice to keep cold if necessary. Garnish with chili flakes if desired. Serve with the lemon wedges and toasts.
Note: Contributor recipes are not tested by the Martha Stewart test kitchen.