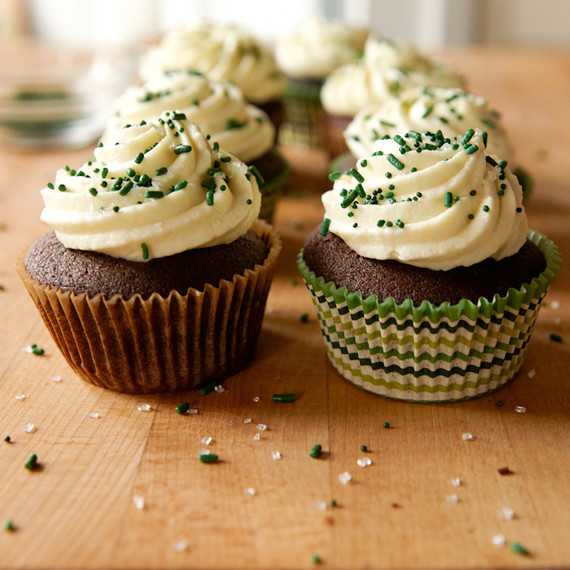 Irish stout is a well-known and beloved beverage, especially on March 17. And the dark, malty brew is no stranger to the baking world; its rich, roasted flavor makes it an excellent addition to many kitchen creations. Because Irish stout already has aromas of familiar dark roasted things, like coffee and chocolate, it pairs very well with many sweet treats.
This week, celebrate St. Patrick's Day by baking with beer. Try making these rich and boozy Irish stout cupcakes topped with a fresh and sweet whipped mint frosting.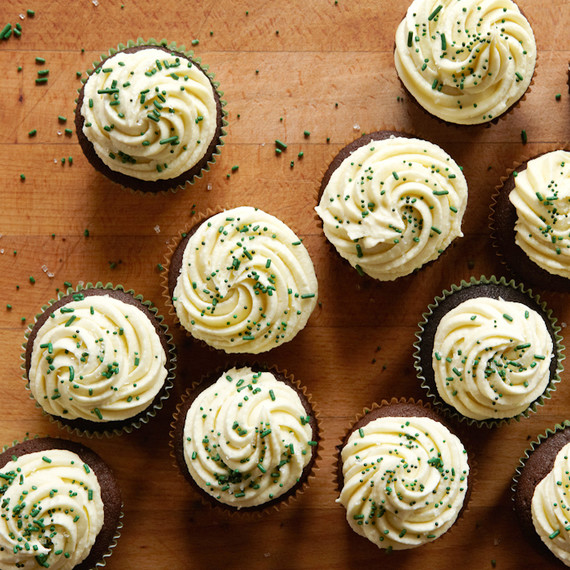 Irish Stout Chocolate Cake with Whipped Mint White Chocolate Ganache
Yield: Makes 24 cupcakes
Ingredients
For the Mint White Chocolate Ganache:
16 oz white chocolate, chopped into small pieces
1 1/2 cups heavy cream
1/2 cup fresh mint, stemmed and chopped
Pinch of salt
For the Chocolate Stout Cake:
1 3/4 cups flour
1 cup unsweetened cocoa powder
1 teaspoon baking soda
1/4 teaspoon salt
1 1/4 cups Irish stout beer
1/4 cup brewed coffee
1/2 tsp vanilla extract
1 cup (2 sticks) unsalted butter, softened
1 cup packed brown sugar
1/2 cup white sugar
3 eggs, room temperature
Sprinkles (optional)
Instructions
The ganache will need time to chill before it can be whipped and applied to the cupcakes as frosting, so to save time, it's best to prepare it first.
This recipe will make about 4 cups of whipped frosting.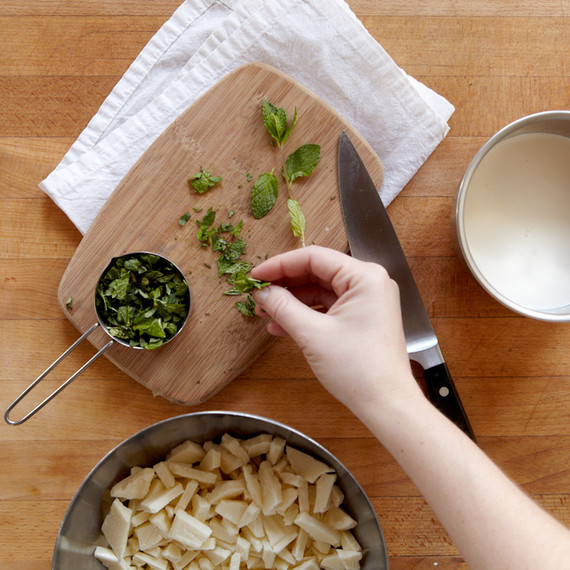 Prepare the ganache:
Place the chopped white chocolate in a large heat-safe bowl; set aside. Combine the heavy cream and chopped mint in a medium saucepan. Bring just to a boil, then remove from heat; cover and let the mint leaves steep for 5 minutes.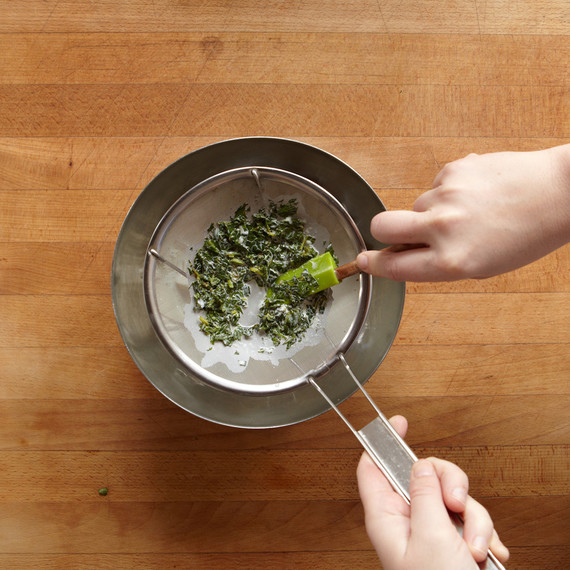 Pour the cream through a fine mesh strainer onto the white chocolate. Using a rubber spatula, press the mint leaves against the strainer to squeeze out any excess cream. Discard the mint. Add a pinch of salt and let the chocolate/cream mixture sit for 5 minutes, then using a whisk, stir rapidly until smooth and fully incorporated. Cover and transfer to the refrigerator until chilled, about 1 hour.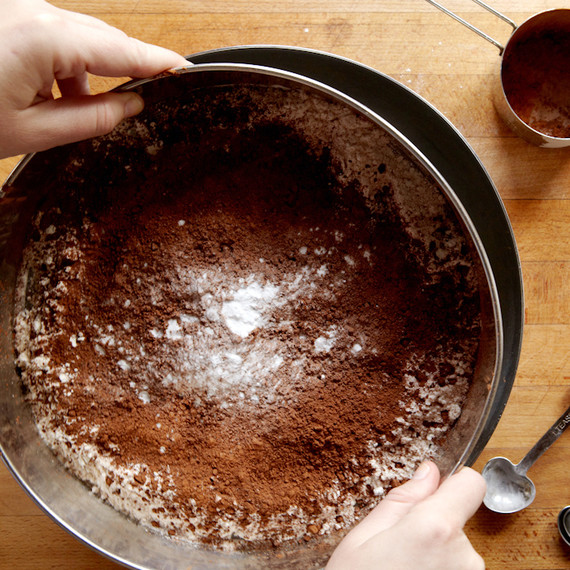 While the ganache is chilling, prepare the cake:
Preheat oven to 350 degrees. Line two 12-cup muffin tins with paper liners. Sift together flour, cocoa powder, baking soda, and salt into a large bowl; set aside. Combine the stout, coffee, and vanilla extract in a large bowl; set aside.
Place butter and both sugars in the bowl of an electric mixer; beat on medium speed, until fully combined, about 1 minute. Add the eggs and continue beating to incorporate. With the mixer on low speed, gradually add 1/3 of the flour mixture, followed by 1/2 of the stout mixture. Repeat, ending with the flour mixture. Scrape bottom and sides of the bowl to incorporate any excess flour or cocoa. Continue mixing until batter is smooth.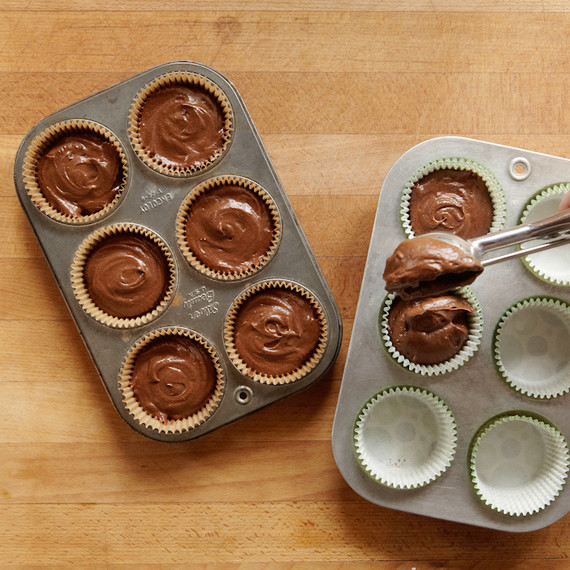 Scoop batter into parchment-lined muffin tins, filling each ¾ full. Bake 18 to 22 minutes or until a toothpick inserted near the center comes out clean. Transfer to a wire rack and let cool completely before frosting.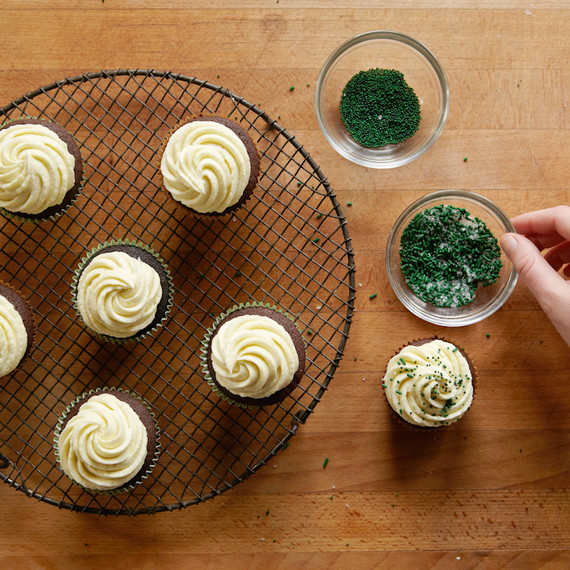 Prepare the frosting:
Transfer the chilled ganache to the bowl of an electric mixer fitted with the whisk attachment. Whip on high speed until soft peaks form, about 1 to 2 minutes (whip time will vary based on mixer type –– be careful not to overwhip the ganache, as it will turn grainy and start to separate).
Transfer the whipped ganache to a piping bag fitted with a medium-size star pastry tip and pipe on each cupcake. Garnish with sprinkles.
Store cupcakes in airtight container until ready to serve.
Note: Contributor recipes are not tested by the Martha Stewart Test Kitchen. 
Shop PieBox
Tote your cupcakes in the cake carry box from PieBox. Inside the pine wood box there's room for a towering cake, or insert the cupcake tray for two tiers of storage. Buy the CakeBox from PieBox in the American Made Market, exclusively on eBay. 
Shop Now