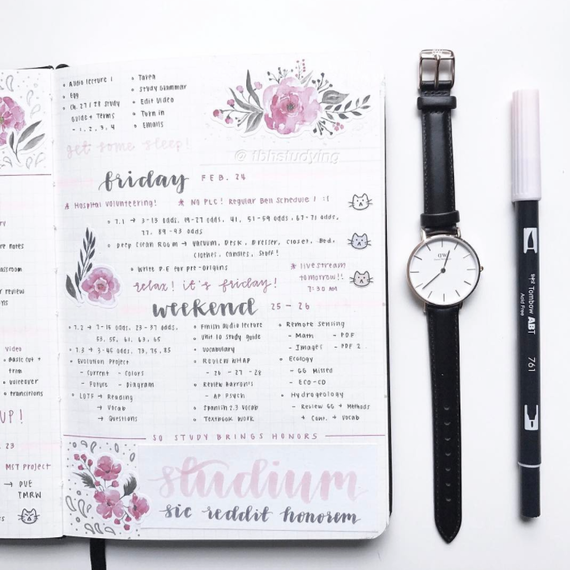 It's never too late to start a bullet journal, which is a systemized rapid logging organizational trend that's taken over Instagram over the past couple of years. Originally created by designer Ryder Carroll, the bullet journal (or BuJo for short) "lives at the intersection between mindfulness and productivity." In essence, the notebook is intended to streamline the inner disarray of your life. And let's be real: Whose life isn't filled with moderate chaos?
As Carroll told Martha Stewart Living back in September, as humans of the digital age, "We are flooded with information. It's easy for the important things to simply get washed away. Bullet journaling allows you to quickly capture meaningful thoughts as tasks, events or notes."
That said, ahead are several bullet journal ideas and formats to inspire your own, especially if you're looking to simplify your life. And who knows? You may even become Instagram famous in the process.
[BEFORE YOU BEGIN: Here's Your Intro to Bullet Journals and How to Start One]
1. Work with watercolors
This gorgeous journal employs a pastel palette plus watercolor stickers for a stunning layout. Inspirational notes are drawn throughout.
2. Get set on your gardening
Are you a gardener? Take inspiration from @thediyday, and use cacti and succulent stamps to help you lay out your week.
3. Color-coordinate your life
Matchy-matchy? That's a good thing. We love a good color story, and especially when it comes to color coordinating our supplies with a bullet journal.
4. Challenge yourself
A bullet journal shouldn't just track your daily to-dos (and "done its"). Use it as a way of teaching yourself something new like hand lettering (which is one of our favorite hobbies, by the way).
5. Motivate yourself every month
Make the month count with a monthly layout spread. Include a section on what you'd like to focus on over the next thirty days — it helps to illuminate your bigger objectives so you can tackle the smaller ones daily.
6. Pick a purr-fect theme
It's impossible not to adore the sweet kitty design on the bottom of the page, here. More of a dog person? Any pet placement will do! You can also paste pictures of your furry friend throughout your spreads for quick smiles.
7. Color on the go
Why not? You deserve a little relaxing crafty time for yourself. Try a colorful, intricately drawn mandala.
8. Go graphic
A bright graphic theme? Impossible to miss. Go wild with your designs for an unforgettable layout. (And if you're not much into hand artistry, consider cutting out pages of an old magazine!)
9. Plan your next adventure
Like say, your roadtrip this summer?
10. Make it dreamy
A deeply saturated watercolor design creates a jaw-dropping backdrop for this journal, in which stars and clouds paint a starry night. (That makes it perfect for dream journaling, don't you think?)
11. Doodle like the old days 
Simple black and white doodles liven up the pages on this journaler's spread. A pop of pink and blue contribute to the conservative vibrancy.
12. When it doubt, keep it minimalist
Last not but not least, you don't have to add anything extra to your bullet journal. While artistic BuJos are certainly admirable, it may or may not increase effectiveness for you. The bottom line is to utilize whatever works best for you, and the execution of content, of course, is the most important part.
But don't believe us? Take these words of wisdom from the creator: "It's not about what your bullet journaling looks like — it's about how effective it is in helping you accomplish your goals," Carroll told us. "Once you understand the basics, you can make it whatever you need it to be."