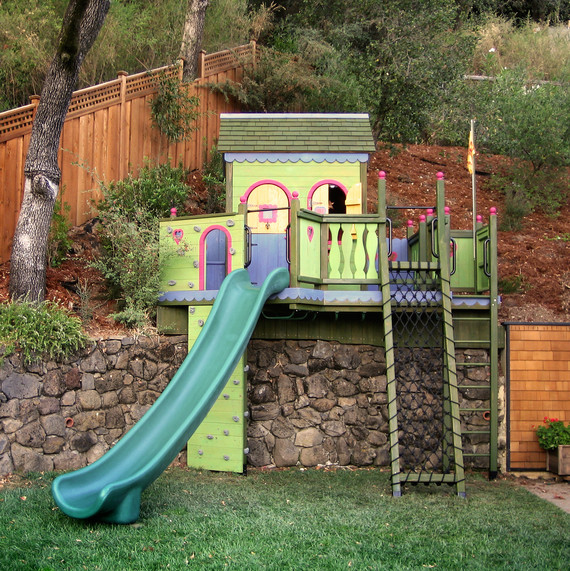 It was in 1987 that Barbara Butler was asked to make her first custom play structure, and she's been doing it ever since.
At the time, Butler had been doing some work building one-of-a-kind furniture and running a small company with a friend where they worked on decks and backyards in San Francisco. But when she was presented with the interesting request of creating a special play structure for the kids of none other than Bobby McFerrin -- yes, jazz vocalist, Grammy-winning Bobby McFerrin --  Butler, a passionate artist and sculptor, couldn't refuse.
"I went and played on all the play structures in San Francisco," says Butler about her approach to that first project. "I thought all about it, and came up with a design for them. I used my own truck tire for the swing, I made my own slide, and I carved the poles and made them sort of like totem poles. It was really exciting; I totally loved it!"
And just like that, Butler was sold.
"Once I did that first one, " she says, "I said to everybody, 'This is it. This is what I want to do.'"
While Butler says she couldn't have made more than $1 an hour or so on that first project, she became completely enchanted by the project's ability to combine all her interests –– art, play, kids, and the outdoors –– at once.
Now, Butler's business building standard and custom play structures, forts, treehouses, and theaters has taken on a life of its own, with her creations spanning the country and her client list including such A-listers as Will Smith and Jada Pinkett-Smith, Robert Redford, and Kevin Kline (not to mention, Walt Disney Productions).
Here, the queen of the (play) castle -- and play house, and play theater, and play fort -- gives her best tips for creating a special play structure for kids in any space, whether you've got a yard that goes on for as far as the eye can see, or one that is, well, modest.
[TRY THESE: Kids Party Ideas]