Every birthday is special, especially to the person celebrating. And for those whose birthdays happen to fall on September 16th, there may be a little more to celebrate -- or, at least a lot more people to celebrate with. Why? Because in the United States, September 16th isn't just some people's birthday; it's the most common birthday of the year. (Talk about a party!)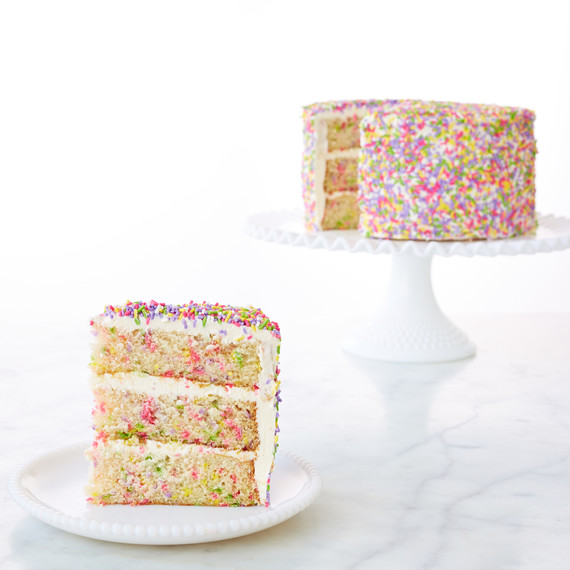 It shouldn't come as a surprise that we don't hold back when it comes to birthday celebrations, especially when it comes to the star of any party (besides the birthday guy or gal): the cake. (Can you have a birthday party without cake? We're not sure!) Maybe the most classic birthday cake is a a frosted white layer cake -- our favorite has meringue frosting and a raspberry jam filling, though we're also stuck on the ultimate Sprinkle Cake. One of Martha's all-time picks is a yellow layer cake with chocolate frosting that's filled with orange curd that was her father's favorite. And of course there are those who just have to have chocolate (cue the Belgian Chocolate Birthday Cake).
This love of birthdays and birthday cake is something we obviously have in common with Hershey's; they just launched birthday cake-flavored Hershey Kisses in a blue polka-dot wrapping. These candy bites capture the beloved flavor of classic birthday cake (all frosting and funfetti) in a single bite. They're sure to star atop cakes, in party bags, and by the bowlful at birthday parties.
If all this has got you thinking about making a birthday cake, try this: