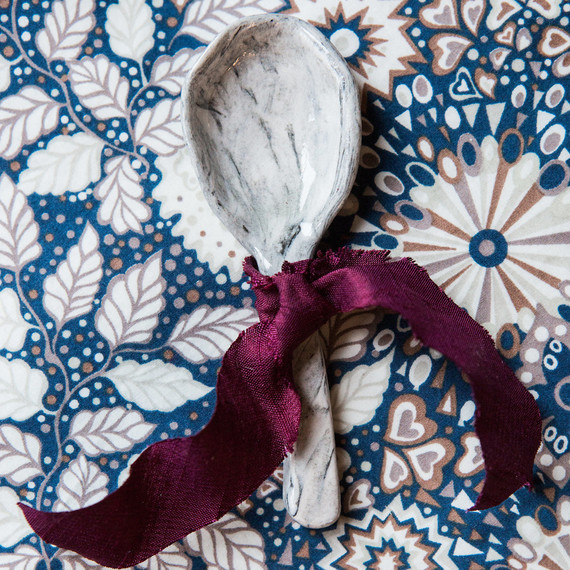 Victorian design elements have been popping up everywhere in fashion -- lace gowns, pointed boots, bows -- to name a few. In restaurants, we've seen a resurgence of elements that are not widely thought of as Victorian, but really speak to the roots of the industrial revolution, an era when people valued innovation and progress just as much as we do now. Edison bulbs? Totally Victorian. Chambray? Those are from the turn of the century too! Those industrial pipes that we use for everything from coat hooks to towel racks? You guessed it -- Victorian!
With so many design trends harkening back to this era, we challenged ourselves to see which of our favorites we could use for table decorations. There were a lot of art and design movements to choose from. Some of the more popular during the Victorian era include: aestheticism, art nouveau, Japonisme, Arts and Crafts, Celtic Revival, Liberty style, and Art Deco. So, we took a little from each.
The Napkins:
We decided to set the table using a Liberty print napkin, like this one from Nimblewell. Inspired by the birds stealing fruit from his garden, designer William Morris created the textile pattern the Strawberry Thief. Morris was a leading member of the Arts and Crafts movement, opening Morris & Co just down the road from Liberty & Co. on Oxford Street in 1877. Liberty first produced the design as an upholstery fabric in 1979, and has been producing a scaled-down version of it since 1995.