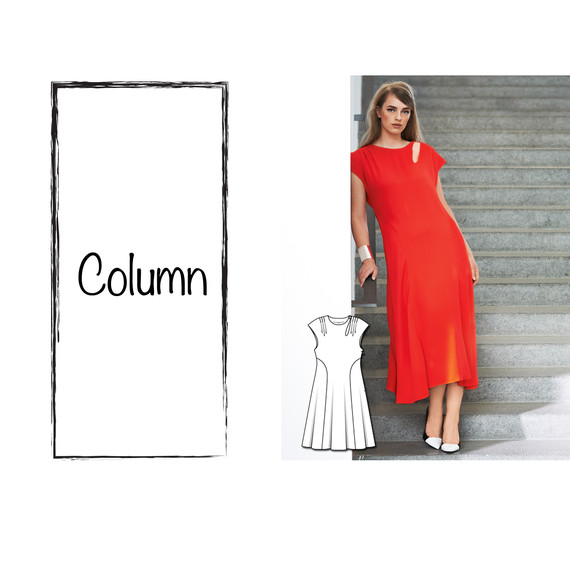 If your body type is a column, opt for a long and flowy pattern with some unique detailing. Avoid sewing in printed fabrics and look for subtle waistline accents with a little bit of added fullness. See the pattern for the Plus-Size Inset Dress with Cutout #140 10/2014.
Tips When Working with Plus-Size Sewing Patterns:
Combine sizes to get a custom-sized pattern that works just for you. Look at the size chart and circle your measurements, taking note of which size fits your bust, waist, and hip. Then, on your paper pattern, connect the different size lines with curved rulers.
Customize your sewn garment by omitting details like pockets, frills, and flounces -- they add bulk. Remember: Less is more!
Sew in fabrics that have elastane woven into the fabric ... especially when sewing pant patterns. I usually use woven fabrics with at least 5 percent spandex.
If you find plus-size sewing patterns that you love and that fit you perfectly, keep sewing them! You can easily make each garment look different by altering the neckline, hemline, and style lines. You can also omit and add details like sleeves, just find another sewing pattern with sleeves and measure the armhole circumference measurement against the sleeve. If there is a difference, make sure you make an adjustment on BOTH the armhole and sleeve. For example if there is a 1 1/2" difference, modify each the bodice and the sleeve by 3/4" to keep things even.
Check out our entire library of plus-size sewing patterns here!