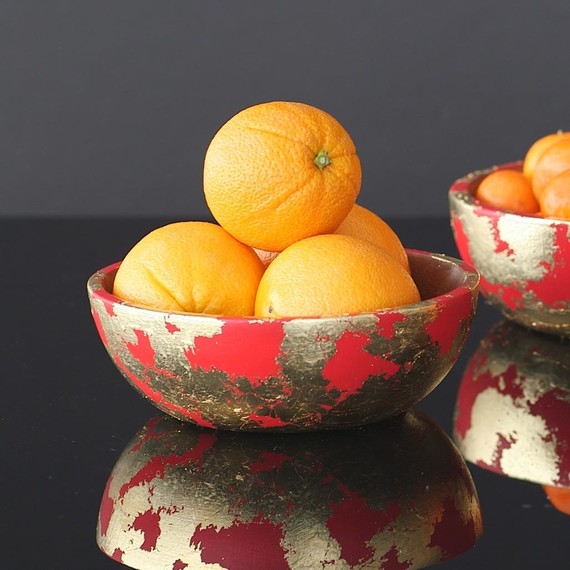 Today marks the first day of the Lunar New Year, and more specifically, the Year of the Monkey. That means fireworks, big feasts, and time with family and friends.
And at the dinner table? A set of these stylish bowls –- painted in a rich red color and coated in sheets of shimmering gold leaf -- make an eye-catching statement for any celebration. You can paint the bowls any color you wish, but the red makes these bowls perfectly tailored for the common Chinese tradition of displaying (and eating) tangerines and oranges, which are said to bring wealth and luck, respectively. Even better? They can be made in a matter of minutes, just in time before the guests arrive. Or, make them ahead of time and leave them on display for all 15 days of the Lunar New Year.
Gong xi fa cai!
Materials:
A plain wooden bowl
Steps:
1. Paint the entire outer surface in red craft paint (two coats) and dry between layers. Cover the lip and make sure that the wood grain is covered completely.
2. Next, apply gilding adhesive in spattered dabs. For an authentic gilding look, apply gliding adhesive densely in some areas and sparsely in others. Let adhesive dry until clear (approximately 10 minutes) and tacky to the touch.
3. Working with one sheet at a time, apply gilding sheets. Lay flat onto the surface of the painted bowl where you applied gilding adhesive until it sticks. With a stippling brush, gently scrub the gilding sheets so gold flakes off. Buff out the sides until you get the desired effect of gold on red.
Erin Furey, host of "DIY Style," shows how to make this stunning centerpiece from beginning to end: