Martha Stewart Weddings Bridal Market Party
It's New York City's autumn bridal market fashion week, and to celebrate, hundreds of guests attended our 15th annual Martha Stewart Weddings Bridal Party at the historic Starrett-Lehigh Building.
Bridal market showcases the very best in weddings, including fashion, beauty, themes, and trends. This year, our gala's theme was "come shine with us," and everything from the decor and food to the guest attire sparkled.
See more coverage of the bridal market on Martha Stewart Weddings Instagram.
And thank you so much to all the wonderful vendors who collaborated with our Weddings team: Matthew David Celebrations, Peter Callahan, Levy Lighting, Christian Oth, Taylor Creative, Elan Artists, Illy Coffee, Creme Delicious, Milk Bar, Gumbo Bros., Warren Tricomi, Nova Fragrances, Cover Girl, Wedding Paper Divas, Smilebooth, Go Flip Yourself, Tito's Vodka, SpeakWines, Charles Smith Wines, Rose Brand, Michaels, and Amazon.com.
Read More About the Bridal Market Party on Martha's Blog
A Visit with an Expert from Enjoy
A new company is looking to revolutionize the way people buy and experience technology.
Enjoy is a personal commerce platform that serves as a third-party liaison between leading manufacturers and their customers. The technology start-up allows Web-enabled consumers to purchase high-end electronics and then choose a specific time and place for an Enjoy tech-savvy employee to deliver and review how the device works. 
Recently, I tried Enjoy's service on my new iPhone 6s Plus. Enjoy the short video.
Read More About Enjoy on Martha's Blog
Our 2015 Employee Wellness Expo
Our annual Martha Stewart Living Omnimedia Employee Wellness Expo continues to be a big success.
The event kicked off the cold season by offering free flu shots and biometric screenings for blood pressure and cholesterol. It also gathered a variety of health, fitness, and beauty professionals to share their expertise and advice with my valued employees.
Our wellness expo is a great way to bring awareness about the many ways we can all live well. 
Read More About the Wellness Expo on Martha's Blog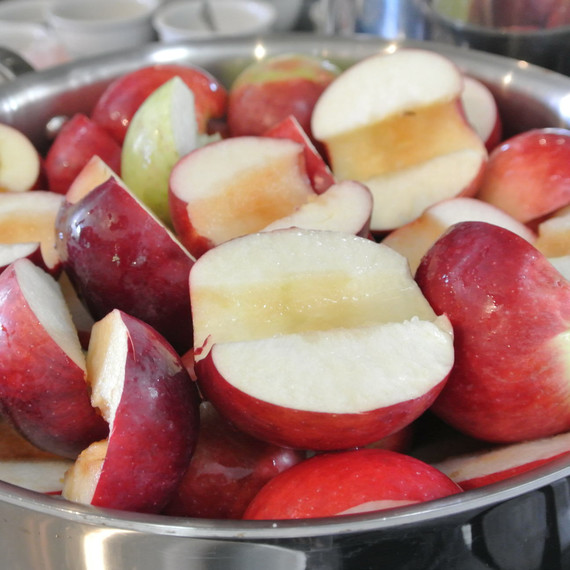 Making My Favorite Pink Applesauce
One morning this week, I decided to make some delicious pink applesauce. I discovered how to make it purely by accident, while making a batch of regular applesauce. I prepared my apples -- skins on -- and decided I wanted to make the sauce more tart, so I added lemon juice, and once they were cooked, I noticed the red of the skins had turned the flesh pink. I've been making pink applesauce ever since.
Read More About the Pink Applesauce on Martha's Blog
Harvesting Pumpkins at My Farm
Here in the Northeast, autumn is in full swing, and that means it's pumpkin-picking time at my farm.
Every June, my gardeners and I plant pumpkin seeds in a corner of the farm behind my main greenhouse and cutting garden. By October, the pumpkins, squash, and gourds are ready to be harvested.
Last week, we collected a nice amount of these beautifully colored cucurbits. Our seeds came from several companies, including:
Sow True Seed
Southern Exposure Seed Exchange
Irish Eyes Garden Seeds
Renee's Garden
Seed Savers Exchange
Kitazawa Seed Company
Natural Gardening Company
Johnny's Selected Seeds
Read More on Martha's Blog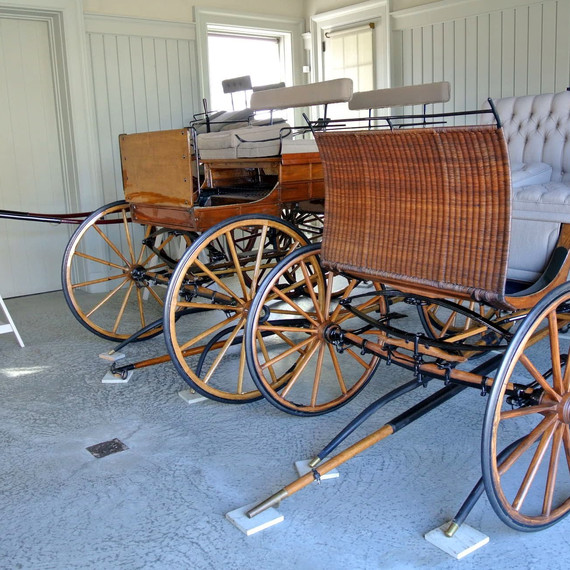 A Barn Tour at My Cantitoe Corners Farm
This week, the Bedford Riding Lanes Association (BRLA) held its most recent fund-raiser, the BRLA Barn Tour. The BRLA is a publicly supported nonprofit organization that maintains and develops the historic system of trails and dirt roads.
Many of the trails run through private estates, and occasionally the association organizes barn tours so visitors can see some of the stunning facilities in the vicinity. I am always so honored to open my Cantitoe Corners Stable and Carriage House for its tours.
Read More About the Tour on Martha's Blog
The Great Jack O' Lantern Blaze
The electrifying Great Jack O'Lantern Blaze returns to the Historic Hudson Valley Van Cortlandt Manor House for another year.
If you're in the New York City tristate area any time during the next few weeks, I encourage you to visit the the Blaze in Croton-on-Hudson. Through November 15, the Historic Hudson Valley turns the Manor House landscape into a Halloween wonderland, with thousands of carved and illuminated jack-o'-lanterns inspired by themes of the 18th century and other more traditional Halloween subjects. 
The exhibit is under the direction of Michael Natiello, the creative director of Historic Hudson Valley and the "head carver" of the Blaze event. 
Read More About the Event on Martha's Blog