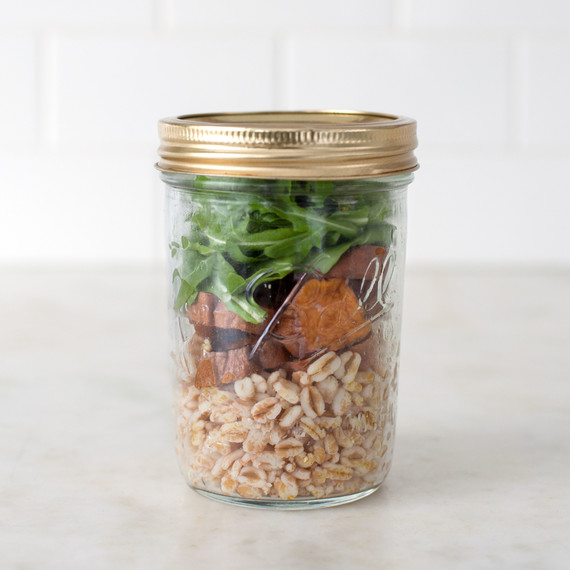 The ubiqitous mason jar is incredibly multipurpose; it can be used as a pencil holder, a vase, or even a trendy cocktail glass. But perhaps its most exciting use is as a lunch container -- who needs Tupperware when you can brown-bag with a trendy Mason jar? These useful glass containers are exceptional lunch buddies: The tall, cylindrical jar makes it easy to ensure lunch ingredients all stay in the same place. The result: mason jar salads, which, in addition to being absolutely delicious have a spectacular, stacked appearance. 
Salads are hard to pack for lunch because of their multiple moving parts: you need chilled lettuce, toppings, and a tablespoon or two of dressing. When the salad is tossed in a large plastic container, the ingredients mingle, which means, quite often, you're left with wilted greens come 12 p.m. The advantage of a salad in a mason jar is that, presumably, the ingredients, in their narrow container, stay stacked. Dressing goes in the bottom of the jar with the sturdy, less-absorbent ingredients (like nuts, meats, beans, or hard cheeses). From there, the more delicate ingredients are stacked on top, finishing with the most tender ingredient -- the greens! If the mason jar doesn't get jostled too much on your ride to work, you should be able to simply turn the jar over and empty your salad into a bowl. Ta-da! Non-soggy salad all week long. 
In addition, mason jar salads can last for up to a week in the fridge. Try one of our favorite lunch salads or whip up your own favorite mix. Make five fab salads on Sunday and serve 'em up all week from your fridge at work -- watch as your coworkers grow green with envy.
Super Salads Perfect for Mason Jars