Photography by: Helen Norman
Dried Sausage, Hard or Semihard Cheese, and Quince Paste
This Spanish-inspired grouping works well with Spanish-style cider, like Millstone's Sidra Americana. Its acidity balances heavier flavors. Shown: summer sausage (1); Firefly Farms Cabra La Mancha (2); membrillo, or quince paste (3).
Salty Meats, Soft Cheese, Pickled Beets, Jam
A full-bodied sparkling cider, like Farmgate, stands up to these strong flavors and creamy textures. Shown: coppa (4), De-Glae Sheep Dairy Dew Drop (5), pickled golden beets (6), black-raspberry jam (7).
Crackers, Bologna, Herbed Goat Cheese, Pickled Carrots
Herbaceous fare is lovely with the grassy taste of a hops-infused cider, such as Millstone's Hopvine. Shown: buckwheat crackers (8), bologna (9), Charlottetown Farm aged goat crottin (10), pickled carrots (11).
Drinks You Can Make With Cider
You can enjoy cider on its own, or you can use it to create one of these irresistible cocktails, including apple cider, cranberry, and ginger punch, black currant cider-sparklers, cider smash, warm vanilla cider, spiced apple cider, apple pie spiced cider, tea and hot cider, maple bourbon cider, perfect storm cocktails, The Big Apple cocktail, warm cider and rum punch, cognac sparklers, apple spritzers, and apple brandy and cider. Click the link for recipes.
15 Soul-Warming Cider Recipes
More Drinks for Apple Lovers
Fall is here, and with it comes the familiar, comforting flavors of apple, cinnamon, and, of course, pumpkin. Click the link for a dozen drinks, including warm vanilla cider (whipped cream and honeyed walnuts make this sweet treat extra decadent), spiced brandy wine (made with dark red wine), apple spritzers (club soda and bitters are the game-changers here), and warm cider and rum punch (great for a party!). They are just as refreshing as that sudden chill in the air. Is cranberry more your speed? We've for cranberry and ginger punch with apple cider too! You're bound to find a favorite among these heavenly sips.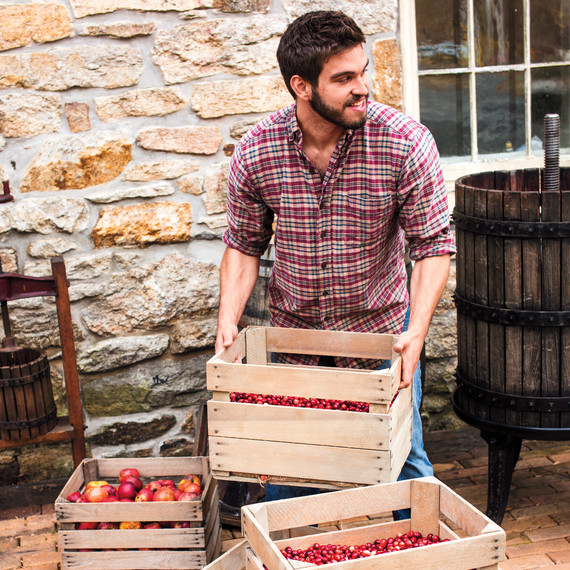 More About Millstone Cellars
Curt Sherrer is a former winemaker whose son Kyle studied finance and enjoys his beer. The father-son team was looking to launch a business together. One product—deliciously rich in history yet utterly modern—came to mind: hard cider. Click the link below to learn how their vision -- which ultimately became Millstone Cellars -- has sparked excitement for old rituals and novel flavors, one bottle at a time.
Hard Cider Like You've Never Seen It Before: A Tour of Millstone Cellars