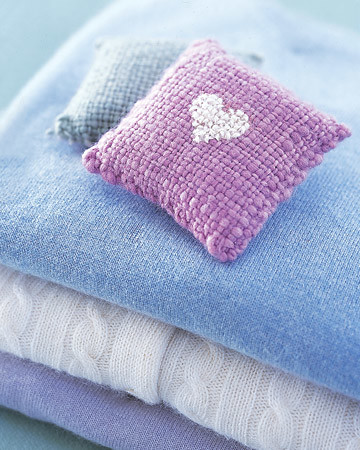 The Basics of Weaving
Weaving is a method in which two sets of yarn or thread are interlaced on a loom to form a fabric. Aside from a loom, the only materials you will need are a weaving needle and yarn (or thread) in different colors and weights, and basic sewing skills and tools to link one square to another. To begin weaving, the vertical threads that provide the foundation for your fabric are referred to as the "warp" while the horizontal threads are referred to as the "weft" or filling.
Weave pieces following the handloom manufacturer's instructions, using an over-and-under method. Depending on the size of your project, this can be done in a matter of minutes or a matter of hours. For our projects, we used a handheld loom that will yield a small swatch (completed in about twenty minutes). Then, you can stitch the pieces together into any one of these projects below, or something of your own making. The possibilities are endless!
Planning Your Pattern
You can choose a tweedy, solid-colored, or checked design. Just remember that the appearance of your woven swatch will differ depending on how many yarns are used to thread and weave the loom, how thick the yarn is, and, in some cases, the order in which the colors are used. For a solid colored swatch, use one yarn to thread and weave the loom. For a swatch with a tweedlike appearance, use two different colored yarns simultaneously to thread and weave the loom. And for a checked pattern, thread the loom with yarn of one color, then weave with a different yarn; the base color -- the color used first -- will be the predominant color of the swatch.