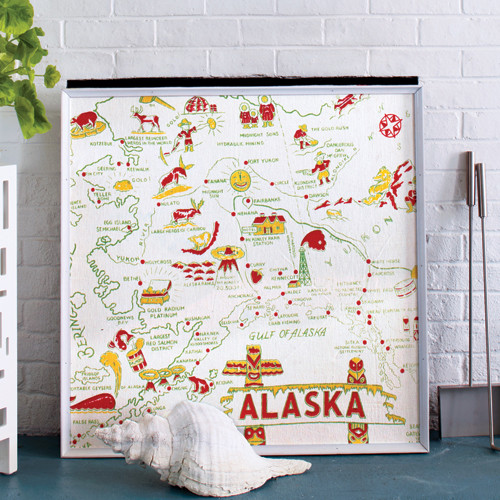 For when the fireplace isn't aflame, a decorative screen can provide a cheerful accent for your living space. Play with it! Any framed textile can work as a decorative fireplace screen (purely decorative! Use in front of a real, sparking fire is far from recommended).  Wall art, posters, or even leftover wrapping paper can all serve fireplace duty -- so put them to work! When ash and the remains of newspaper kindling make the fireplace look a little less than beautiful, look to the depths of your craft closet (where that roll of geranium wallpaper has been sitting) to DIY your own fireplace decor. 
This map can be of all the places you've been or of all the places you hope to visit.
To Make:
All you need is a frame tha fits in front of the fireplace, a drill, two L-brackets, and two bricks.
Pop the textile of your choice into the frame. On the bottom of frame, measure 6 inches in from outside edges, and mark holes. Predrill.
Screw L-brackets securely into frame to create legs. The perpendicular part of brackets should be flush with edge of frame.
Set a weight, such as a brick, on top of each bracket to prevent the screen from tipping forward. Slide back into hearth to hide bricks.
Other Textiles Ideas for Decorating the Fireplace with Flair