It's that time again; you're thinking about dinner and what to cook. So here's our weekly list of suggestions: dinner recipes that take less than an hour of mostly hands-off time or cook quicker then that but may require constant stirring. Yes, there will be pasta, and, yes, it will be delicious. So visit us every week for dinnertime inspiration.
Monday: Chickpea-Brown Rice Veggie Burger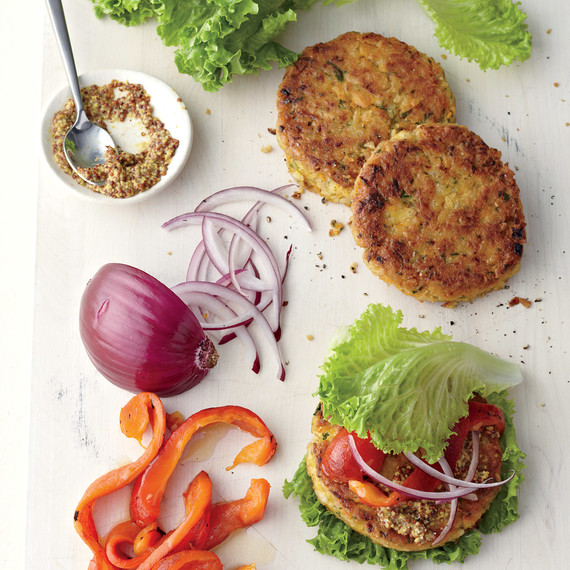 There are many good reasons to cook a big pot of rice on the weekend; one is to have brown rice ready for these delicious, hearty patties. If you have cooked rice on hand, making the patties takes mere minutes. You can wrap them in lettuce leaves for a healthy approach, or serve in pita pockets or on potato buns for a more traditional version.
Get the Chickpea-Brown Rice Veggie Burger Recipe
TUESDAY: Orecchiette with Sausage, Corn, and Chiles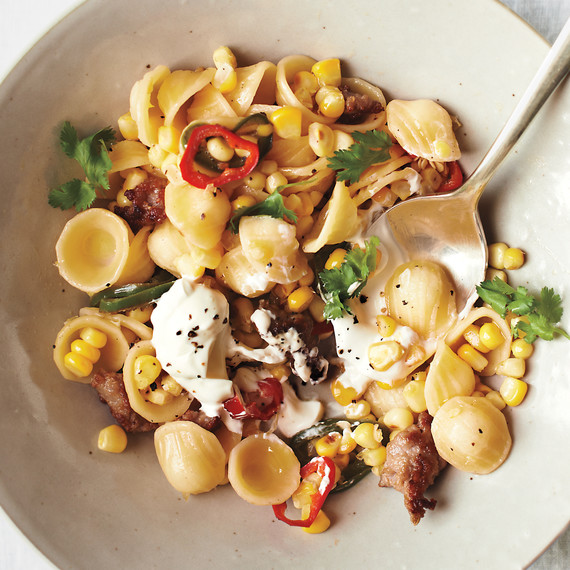 One of the test kitchen's favorite pastas, orecchiette is a small ear-shaped pasta that holds little pieces of vegetable or sausage. Here it's the foil for a sweet (corn)-spicy (chile)-meaty (sweet Italian sausage) combo that's rounded out with a daub of sour cream.
Get the Orecchiette with Sausage, Corn, and Chiles Recipe
WEDNESDAY: Salmon with Green Beans and Lemon Zest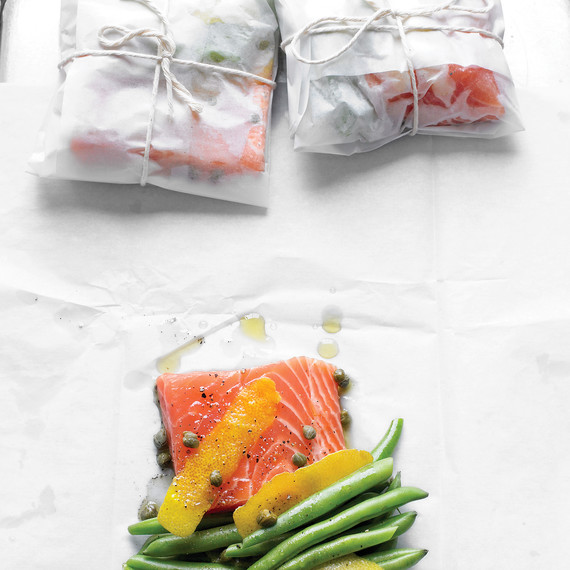 We adore cooking in parchment. The liquid inside each bundle is perfect for sopping up with a loaf of crusty bread. It's a healthy, messproof way to dinner. 
Get the Salmon with Green Beans and Lemon Zest Recipe
THURSDAY: Kimchi Fried Rice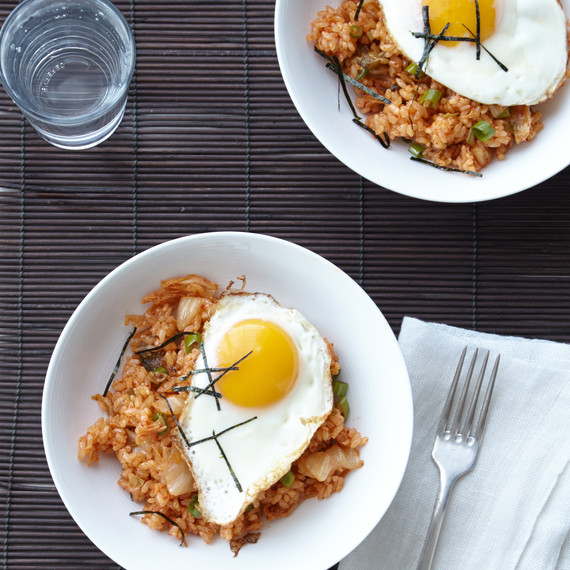 File under "better than takeout," and faster to boot. Occasionally we're not all about seasonal ingredients. Sometimes at this time of year, grilling is not our thing. If you feel the same way today, make this irresistible rice dinner and top it with an egg fried in sesame oil.
Get the Kimchi Fried Rice Recipe
FRIDAY: Lemon Chicken with Herb Salad
Fast and fresh but filling, this a super-duper chicken cutlet recipe. Consider the herb salad a deconstructed pesto -- the basil, pine nuts, garlic, Parmesan, and olive oil are there, but we added parsley too!
Get the Lemon Chicken with Herb Salad Recipe
SATURDAY: Grilled Pizza with Cheesy Corn, Fresh Tomatoes, and Basil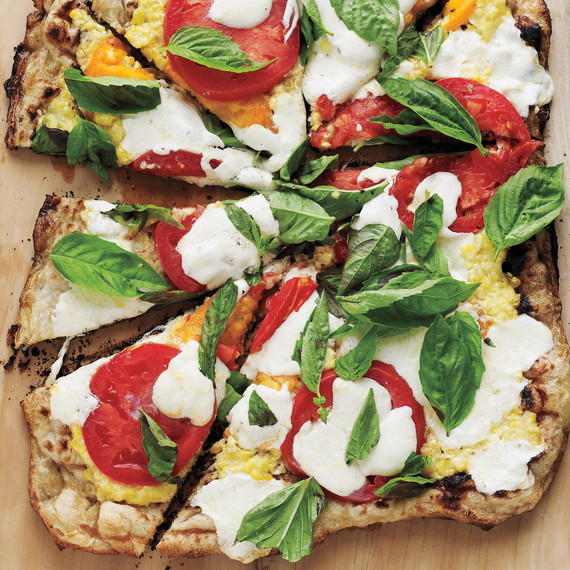 Summer is all about grilling, and every season is meant for pizza. So we bring you this grilled pizza, albeit one without tomato sauce. In a radically delicious move, we puree corn kernels with Parm, garlic, and olive oil. Tomatoes aren't skipped entirely: Thick, juicy slices are set atop the corn puree and slices of fresh mozzarella make it seem like a "regular" pizza. Try a slice and see if you really need regular.
Get the Grilled Pizza with Cheesy Corn, Fresh Tomatoes, and Basil Recipe
SUNDAY: Grilled Whole Fish
This is a weekend to expand your grilling repetoire. Grilling a whole fish is actually easier than grilling fillets: The skin and the thin layer of (healthy) fat under it insulate the fish, so you're not going to overcook and dry the meat out. Opt for mild, white-fleshed branzino: It has relatively few bones that are simple to remove, so the fish is very easy to serve and eat.
Watch how to grill whole fish.
Get the Grilled Whole Fish Recipe