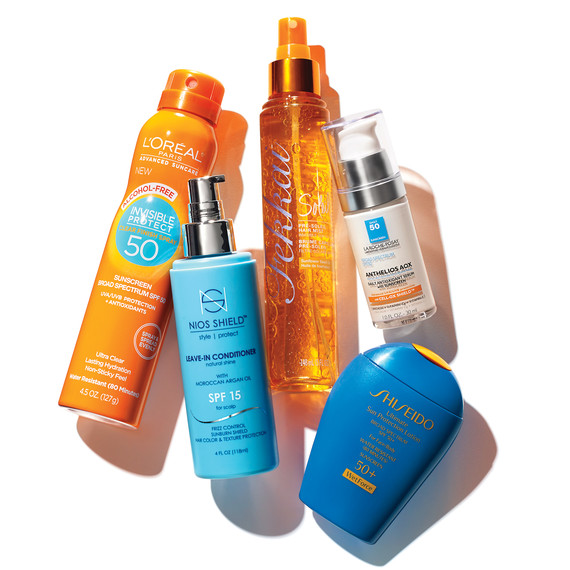 From left to right:
Sheer Delight
No streaks. No residue. No heavy lotion feel. The alcohol-free L'Oréal Invisible Protect Finish spray provides an undetectable barrier from the rays without the usual drawbacks.
From $10, lorealparisusa.com
The Best Part
If you've experienced a burned scalp or an angry red strip along the hairline, it's not something you'll ever forget! Nios Shield leave-in conditioner safegurds susceptible scalps with SPF 15.
$26, niosshield.com
Never a Dull Moment
With Fekkai Pré-Soleil Hair Mist, your color investment stays true-to-hue, never brassy or faded.
$20, fekkai.com
Solar System
Sunscreen meets skin cre in La Roche-Posay's new Anthelios AOX Daily antioxidant serum. The lightweight SPF 50 formula nourishes while filtering out UV rays and wrinkle-causing free radicals.
$43, laroche-posay.us
Waterworks
Unlike typical sunscreens, Shiseido Ultimate WetForce actully works better when wet. (H2O activates molecules that reinforce its moisture-repellent SPF veil.)
$40, shiseido.com