It's that time again; you're thinking about dinner and what to cook. So here's our weekly list of suggestions: dinner recipes that take less than an hour of mostly hands-off time. Some recipes will be much faster than that. We'll suggest what you can do to prep ahead and cut down on weeknight work. Recipes will be family-friendly, but we'll stretch the boundaries beyond chicken tenders and broccoli. Yes, there will be pasta, and, yes, it will be delicious. So visit us every week for dinnertime inspiration.
Monday: Simple Vegetable Curry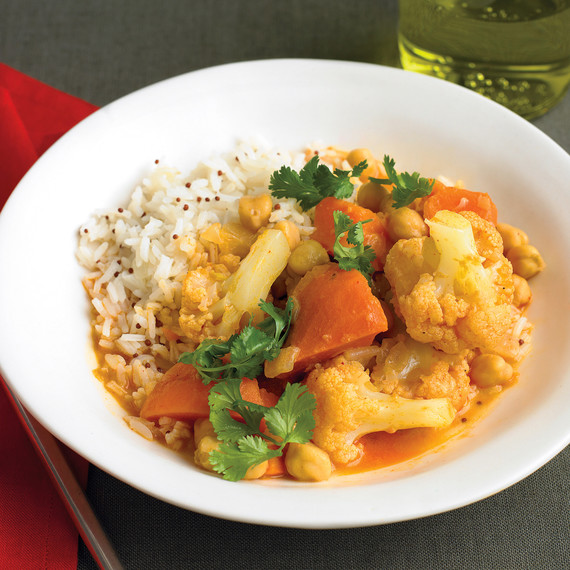 Simple does not mean boring. Red curry paste and coconut milk make this a vegetarian dinner with layers of flavor, and one that comes together in less than 30 minutes.
Get the Simple Vegetable Curry Recipe
TUESDAY: Parmesan and Parsley Crusted Chicken
Easy, delicious, cheesy, and chickeny; this dinner has everything going for it. Make your own breadcrumbs if you can; it doesn't take long. And that pan sauce, made with lemon juice, mustard, and butter -- you'll love it. This entree goes great with salad or green vegetables.
Get the Parmesan and Parsley Crusted Chicken
WEDNESDAY: Lamb and Bulgur Stew with White Beans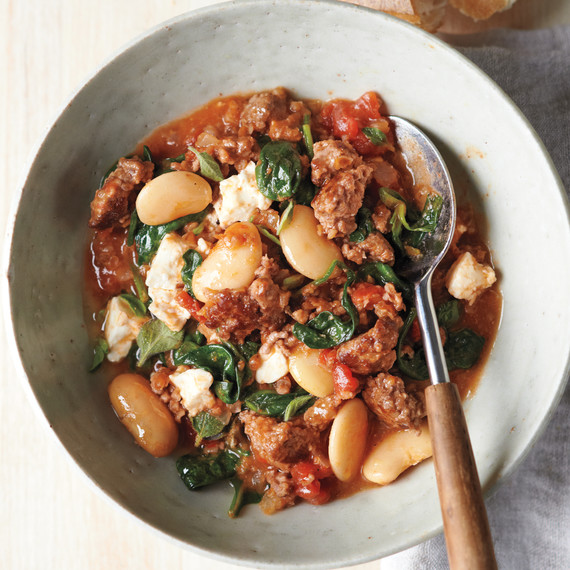 Ground meat: It's more than just beef, you know. Lamb is altogether underappreciated and ground lamb is, sadly, usually only known to those who make pastitsio. Tonight's one-pot wonder is a magical mix of gigante, or cannellini, beans; ground lamb; canned tomatoes; spinach; and feta; with the bulgur cooking in the stew.
Get the Lamb and Bulgur Stew with White Beans Recipe
THURSDAY: Steak and Asparagus Stir-Fry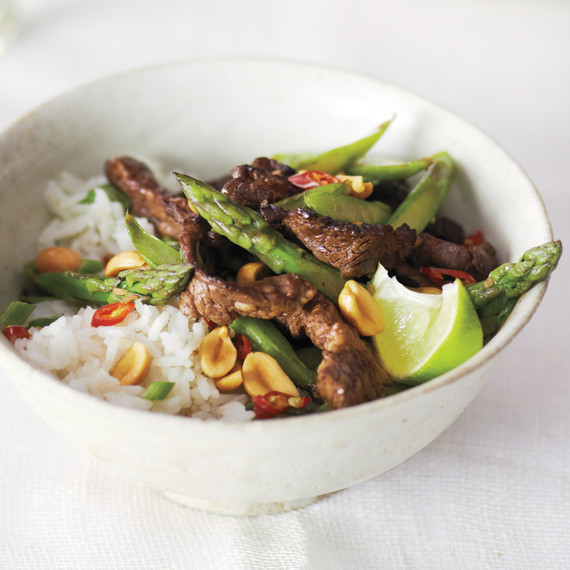 For me, Thursday is not so much about throwback as it is "What?! I have to cook dinner tonight?" It's a low point of creativity and enthusiasm, so I need something fast and easy. That it also needs to be delicious goes without saying. This colorful stir-fry fits the bill.
Get the Steak and Asparagus Stir-Fry Recipe
FRIDAY: Tagliatelle with Herbs and Buttery Egg Sauce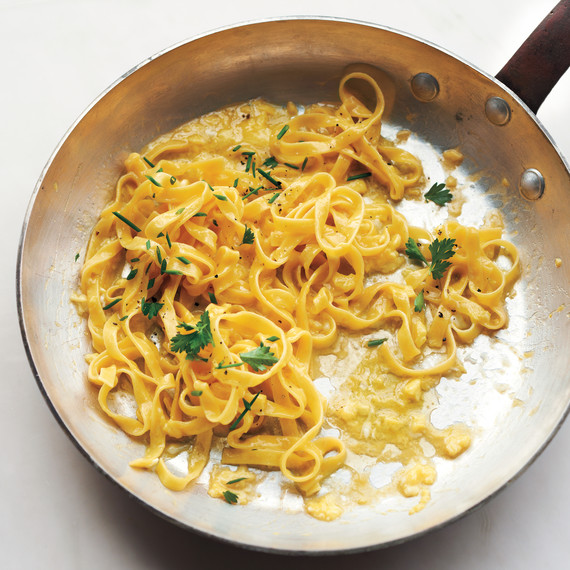 Serve a salami for pre-dinner nibbles -- during your Friday cocktail hour. (May we suggest Campari?) Then savor this dish where melted butter, gently cooked eggs, and pasta are transformed into a stellar dinner in no time at all.
Get the Tagliatelle with Herbs and Buttery Egg Sauce Recipe
SATURDAY: Spring Vegetable Soup
Last night's dinner was rich, so balance things out with this gorgeous green soup that's chock-full of spinach, peas, asparagus, and other good things. Pair it with grilled cheese or avocado toasts ... or have dessert after.
Get the Spring Vegetable Soup Recipe
Sunday: Every-Week Roast Chicken
Learn from Sarah Carey, Everyday Food host; she roasts a chicken almost every week. This is her "lowest-effort, highest-rewards" recipe. What you serve it with for Sunday dinner is up to you. Toss some carrots and onions into the roasting pan. Use the oven for roasted asparagus (so very spring). Pair the chicken with a salad if you fancy. Truly, the options are endless. Personally, I'm big on these potatoes. And if you're lucky, there will be leftovers.
Get the Every-Week Roast Chicken Recipe