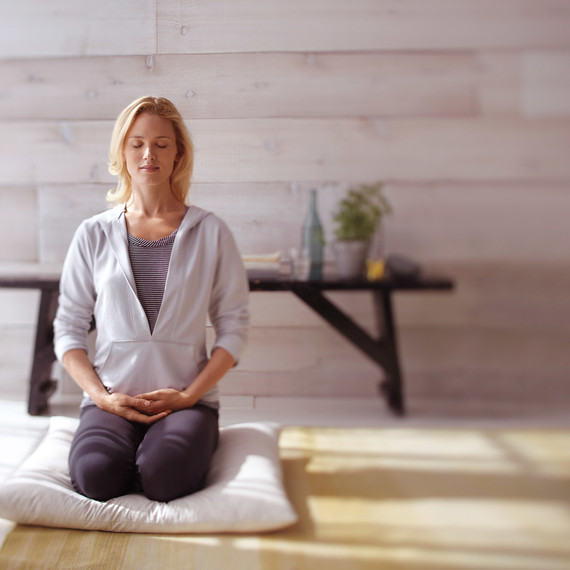 How would you define meditation? Thinking? Advanced thinking? The absence of thinking? In fact, it can be all three. While the end game varies, meditation is essentially self-imposed mind control that a person engages in fully for a set length of time.
One thing's for sure: It's good for us. A study done at Harvard last fall indicates that regular meditation can actually change the composition of the brain. MRI scans showed that just 27 minutes of mindfulness exercises a day stimulated major cell growth in the hippocampus, which supports self-awareness and compassion -- and actually shrank the area tied to stress and anxiety. And that's just over the course of eight weeks!
It's tough to argue with that. But it's also tough to find your happy place if you've never really tried to find it before. Well, you know what they say: There's an app for that. Here are three thoroughly modern ways to reap the benefits of mindfulness -- even if you're a little bit skeptical.
Start the clock. Twenty-seven minutes isn't all that long, but can seem daunting to the uninitiated. So work your way up to it, like you'd train for a race -- commit to just five minutes the first day, and gradually push toward the full half hour. The Insight Timer is a free app that lets you set the duration of your quiet time -- plus interval bells let you know how much time has passed. You can even play soothing background sounds or guided meditations to help you navigate the heretofore unprobed corners of your mind! Set your iPhone across the room, and zone out in good faith that Insight will let you know when it's time for Spin class.
Dial down. Maybe you've got some time in your day -- a long commute, or a not-too-demanding cardio regimen -- but always find yourself tempted to fritter it away on your phone. The Headspace app is your winner. Headspace calls itself a "gym membership for the mind," and bite-size, do-anywhere meditation is the name of its game. A free trial grants you access to Headspace's "Take 10" mindfulness training program, which offers 10 days' worth of 10-minute lessons to get you started. After that, subscribe to unlock exercises ranging from two minutes to an hour -- including an "SOS" section for those moments you can barely breathe, let alone think. Choose an area to focus on (like mindful eating or communication skills), track your progress, and even buddy up with other would-be Zen-sters. This is some seriously self-aware social media.
Be alone, together. If you find the idea of being alone with your thoughts intimidating, perhaps you'd prefer to do it in the company of others. Group retreats have long catered to serious spiritual types, but demand has caused an upshot in commitment-free and often cost-free classes where you can experience collective calm without committing to three days of silence (or posing upside-down). Use the MINDBODY Connect app to find a class near you and meet others looking to learn more about the practice. After all, there's no reason finding yourself can't mean finding a friend or two in the process.