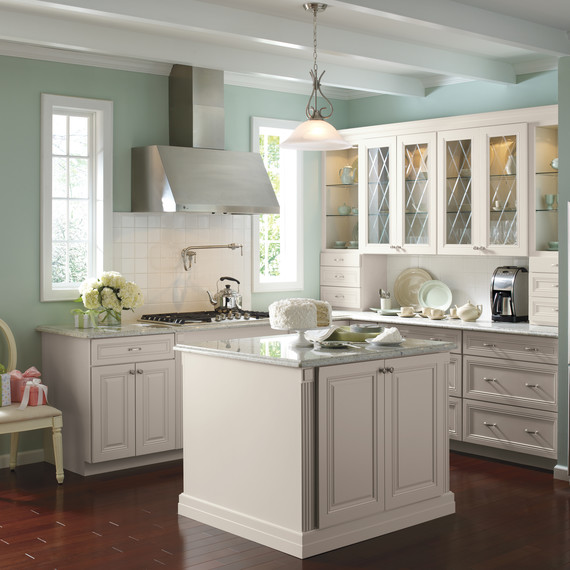 1. Fit to traffic flow: Ideally, an island should have 36 to 48 inches of space around all sides to accommodate foot traffic.
2. Tap into the trend: According to the National Association of Home Builders, 76 percent of home buyers consider a central island essential to the kitchen.
3. Size to seating: Used as an informal dining space, account for at least 24 inches of width per person. For adequate legroom, make sure there's a clearance of 9-13 inches between the knees and the bottom of the counter.
4. Not all islands are created alike: Your island will be most beneficial to you when keeping your kitchen needs in mind. Do you bake? Do you need extra storage? Do you have a small space? All of these call for different countertop materials, designs, and features.
5. Opt for openness: Open shelves display your heirloom dishware; plus, they require fewer materials and less labor, costing you less.
6. Focus your attention: The central island will be the focal point of your kitchen, so it's the best place of any to use countertop material with high impact. (If you're going this route, think marble, granite or recycled glass.)
7. Make material decisions: Base them on your needs in addition to the look. Butcher block is best for chopping food, while stainless steel is valuable for cooling hot pans.
8. Shape-shift: If the traditional rectangle wouldn't fit comfortably in your kitchen, consider an oval, or L- or T-shaped island instead. These are also best suited for lazy Susan attachments.
9. Skip unneeded supplements: Built-in mechanics and features are nice, but they add to the overall cost. Consider whether you really need them or just want them.
10. The best seats in the kitchen: Seating should be proportional to the height of your island. A chair is best suited to a 28- to 30-inch-tall counter; a low stool is best suited to a 36-inch-tall counter; and a barstool is best suited to a 42- to 48-inch-tall counter.
11. Pick a prime spot: The center of the room is not always the ideal place for an island, depending on your use of it. An island designed for food prep should be situated near outlets and appliances, while an island designed for cleanup should be situated near the dishwasher and garbage.
12. Remember the triangle: The kitchen work triangle is an imaginary line connecting the center of the cooktop to the center of the sink to the center of the refrigerator in a triangle shape. This triangle should not cut through the island by more than 12 inches.
13. Disappearing act: Here's a design trick -- extend the public face of the island 4 to 6 inches above the surrounding countertop and match the material to the interior walls. This makes the island virtually fall out of view to someone outside of the kitchen looking in, thereby making the space appear larger and more open.